Cognitive neuroscience in the classroom: conditions of use
Abstract
The indisputable contribution of cognitive neuroscience to education and teaching requires a specific degree of attention and careful contextualization. After examining the relationship between education and cognitive neuroscience, this contribution investigates the nature of the educational offer promoted by neuro-pedagogy. Subsequently, it highlights the essential elements that must accompany such educational offer, as well as the need for a transdisciplinary reorientation of professional teacher training. Finally, this paper focuses on the elements and mediators that can characterize the process of transition from laboratory cognitive neuroscience to its classroom applications. The article concludes by asserting that the transformation of the school system – when it is conceived in a structural perspective – could represent the real innovative potential of neuroscientific applications to the schooling sector.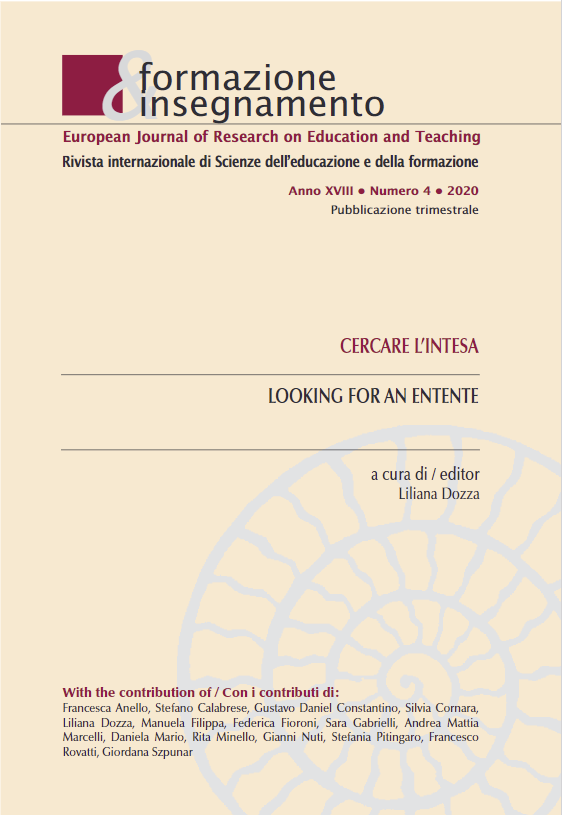 Downloads
How to Cite
Minello, R. (2020). Cognitive neuroscience in the classroom: conditions of use. Formazione & Insegnamento, 18(4), 26–34. https://doi.org/10.7346/-fei-XVIII-04-20_02
License
Copyright (c) 2020 Pensa MultiMedia
This work is licensed under a Creative Commons Attribution 4.0 International License.
Formazione & insegnamento is distributed under Attribution 4.0 International (CC BY 4.0).
For further details, please refer to our Repository & Archiving Policy, as well as our Copyright & Licensing Terms.