Progressive formative assessment combined with middle-range diagnosis. A pilot study on hypovendence case
Abstract
In defining the training paths of students with disabilities, it should be considered that the same "disabled people do not form a homogeneous group". In order to support the creation of a training course that is tailored to the needs of individual students with disabilities, experimental research can provide valid support through the design and preparation of valid tools regarding the process, the diagnosis/evaluation and the assistance. The pilot study on the case of the hypovendence, has intended to encourage the development of a training activity consisting of a dual track. The first one regarding research-action tasks based on pre-established tools to achieve medium-range cyclical diagnosis of the knowledge learned and permanent. The second one consisting in a progressive formative evaluation, that on the basis of the results of cyclical diagnoses, promotes a dynamic redefinition of the training path adapting it to the conditions detected and the subsequent development to be pursued. In this study, an experimental activity for significant learning was carried out based on the theory of reality and source monitoring.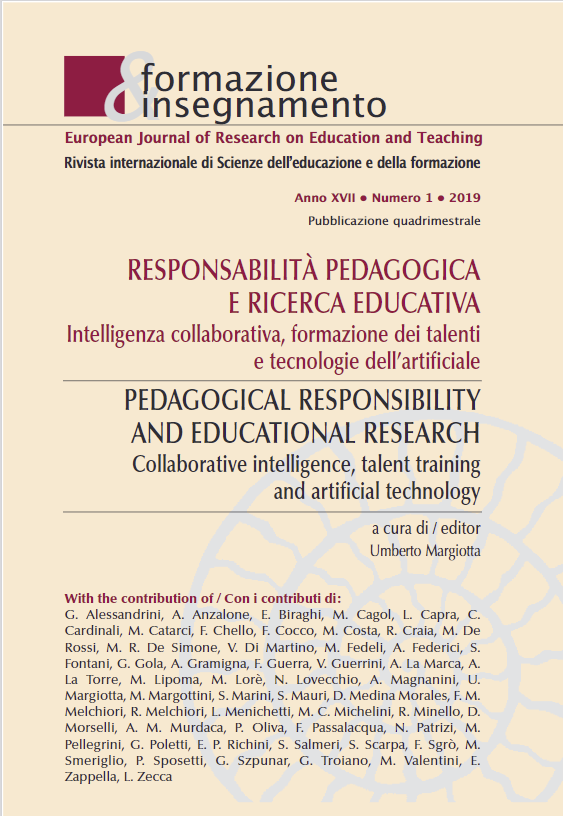 Downloads
How to Cite
Melchiori, F. M., & Melchiori, R. (2019). Progressive formative assessment combined with middle-range diagnosis. A pilot study on hypovendence case. Formazione & Insegnamento, 17(1), 333–350. https://doi.org/10.7346/-fei-XVII-01-19_28
License
Copyright (c) 2019 Pensa MultiMedia
This work is licensed under a Creative Commons Attribution 4.0 International License.
Formazione & insegnamento is distributed under Attribution 4.0 International (CC BY 4.0).
For further details, please refer to our Repository & Archiving Policy, as well as our Copyright & Licensing Terms.