Innovative teaching strategies: enhancing the soft-skilloriented approach through integrated onsite-online learning environments
Abstract
The integration of ICT in Higher Education requires reflective design by teachers. In particular, from recent international research on the subject, it emerges that the perspective of the TPCK framework (Technological, Pedagogical, Content Knowledge) can favour an effective design reasoning of teachers. Teaching practice requires the implementation of innovative organizational models for the creation of learning environments that offer continuity between classroom and distance learning (Hybrid Instruction Solution). The empirical mix-method research involved a group of volunteer teachers of different teachings. The objective was to design and implement innovative teaching solutions using ICT in onsite/online environments to enhance specific soft skills in students. The results of a questionnaire (CAWI) given to incoming and outgoing teachers from the experience of designing and conducting the didactic action will be presented. the TPCK perspective design of integrated learning environments and the reasoned choice of coherent methodologies seem to make a soft-skilloriented didactics feasible.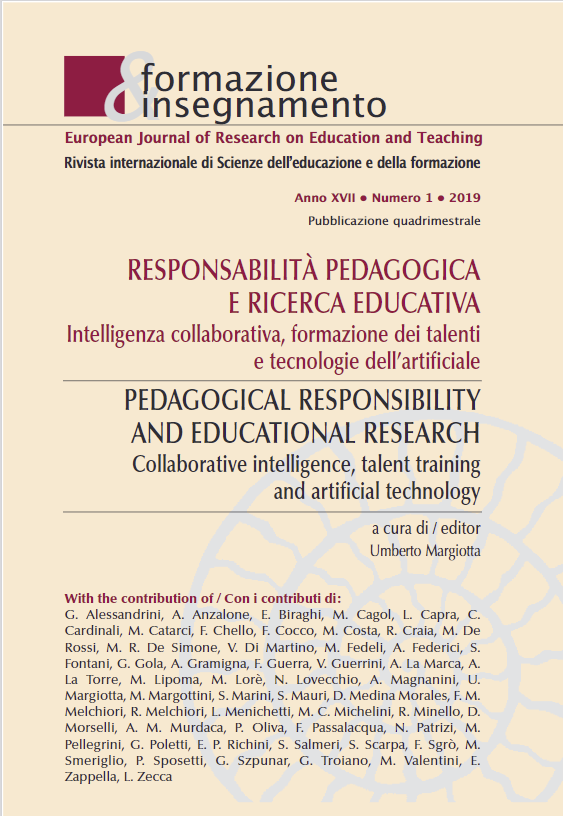 Downloads
How to Cite
De Rossi, M. (2019). Innovative teaching strategies: enhancing the soft-skilloriented approach through integrated onsite-online learning environments. Formazione & Insegnamento, 17(1), 257–266. https://doi.org/10.7346/-fei-XVII-01-19_22
License
Copyright (c) 2019 Pensa MultiMedia
This work is licensed under a Creative Commons Attribution 4.0 International License.
Formazione & insegnamento is distributed under Attribution 4.0 International (CC BY 4.0).
For further details, please refer to our Repository & Archiving Policy, as well as our Copyright & Licensing Terms.