Rethinking teaching in an emergency period: design and sustainability of technology integration in Primary School and Early Childhood
Abstract
The pandemic represents an unprecedented circumstance, characterized by uncertainty, complexity, and ambiguity that, in its persistence, is triggering scenarios of deep rethinking on the sustainability of the integration of technologies in the school world. Never before has the hoped-for innovation attracted so much attention, even though there is a risk that the many technical difficulties may lead to a widespread failure to grasp the potential and opportunities, reducing the quality of teaching to a mere physical presence. Central is the role of teachers, whose competent action has always been the strategic element to support the meaningfulness of learning, regardless of digital technologies. In this perspective, the article presents an empirical study with a qualitative background aimed at investigating the perceptions of a group of 117 primary and nursery school teachers in the Veneto region on some specific aspects of their ability to reshape teaching. In addition to the perception of critical aspects regarding infrastructural deficiencies and their own preparation, despite the fact that the majority had done specific training even before the emergency, positive signs also emerged from the open-ended responses. The intensive experience of DaD, though extremely complex, was also seen as an opportunity to build relationships with families and the community and to reflect on the importance of methodological renewal to be valued also in the future for the design of integrated digital learning environments.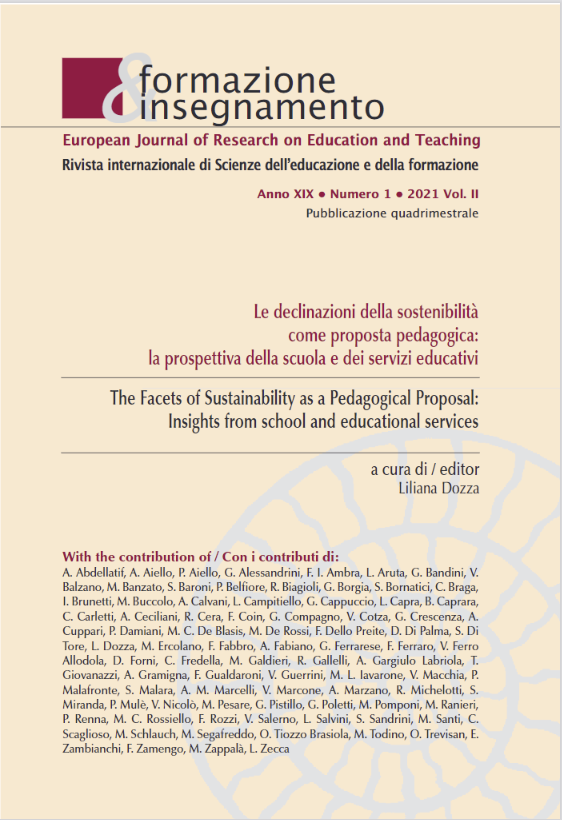 Downloads
How to Cite
De Rossi, M. ., & Trevisan, O. (2021). Rethinking teaching in an emergency period: design and sustainability of technology integration in Primary School and Early Childhood. Formazione & Insegnamento, 19(1 Tome II), 490–504. https://doi.org/10.7346/-fei-XIX-01-21_43
License
Copyright (c) 2021 Pensa MultiMedia
This work is licensed under a Creative Commons Attribution 4.0 International License.
Formazione & insegnamento is distributed under Attribution 4.0 International (CC BY 4.0).
For further details, please refer to our Repository & Archiving Policy, as well as our Copyright & Licensing Terms.