The playful evolution of man: modern game and higher education in motor science
Abstract
The psycho-evolutionary dimension has been favored by the play. The study of the playful phenomenon, can give us the original interpretative keys related to the social changes of different peoples, because the game is a decisive operator of every culture. Videogames can be considered a evolved form of play, that is not at all limiting or trivializing the general game. The interaction and communication introduced by videogames have given rise to new opportunities for social relations, in which human beings are in contact with others. A pedagogical analysis can be a valid contribution focuses on the various cognitive, psychological and linguistic aspects of the videogame, through the presentation of all the fundamental aspects of video-gaming. It's need to acquire more knowledge. Today, university education in motor science is allied to the knowledge and use virtual realty tools in order to acquire the interactive and continuous skills to be acquired in an interactive and continuous journey over time.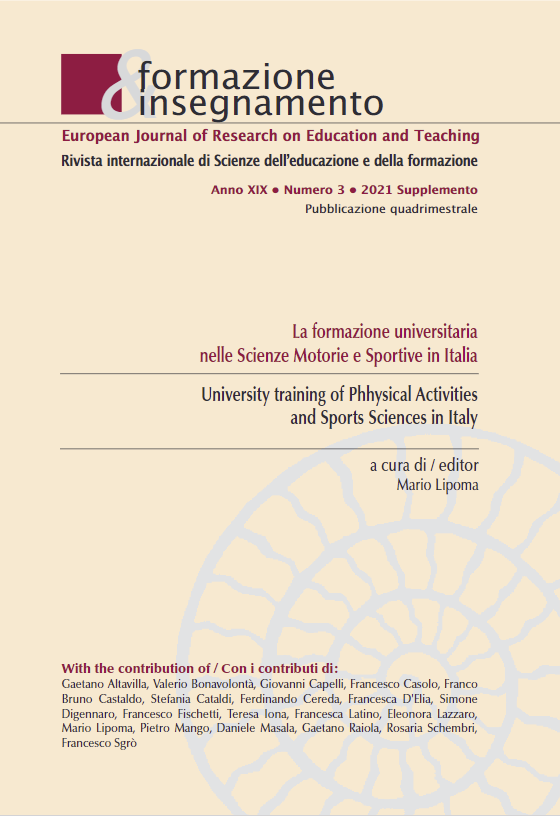 Downloads
How to Cite
Masala , D. ., Lazzaro , E. ., & Iona , T. . (2021). The playful evolution of man: modern game and higher education in motor science. Formazione & Insegnamento, 19(3 Suppl.), 084–095. https://doi.org/10.7346/-feis-XIX-03-21_09
License
Copyright (c) 2022 Pensa MultiMedia
This work is licensed under a Creative Commons Attribution 4.0 International License.
Formazione & insegnamento is distributed under Attribution 4.0 International (CC BY 4.0).
For further details, please refer to our Repository & Archiving Policy, as well as our Copyright & Licensing Terms.