Development of learning conceptions and metacognitive strategies of Latin and Greek language students in Italy and Spain
Abstract
To improve the use of learning strategies, the research suggests, among other possible elements, to consider the metacognitive variables of students and teachers. However, specific studies on this topic are still lacking as regards the teaching of Latin and Greek, considering that these subjects survive with difficulty in different educational systems. The study focuses on Italy and Spain, because it is developed in the context of a doctorate in international co-tutelage between these two countries. Knowledge of the two educational systems, both Italian and Spanish, has shown us that Spanish students start studying "Classical culture" earlier than Italians. In addition, they receive basic training in metacognition during ESO (compulsory secondary school), an element that Italians lack. We wanted to analyze: a) if there are relationships between students' conceptions of learning and their metacognitive strategies; b) if the class attended and the nationality influence the development of metacognition; c) the metacognitive levels of teachers; and d) the greater difficulty of students in studying classical languages, in the opinion of teachers. The results showed that students' conceptions of learning influence their metacognitive strategies. Therefore, more work needs to be done on students' metacognition. The class attended by Italian students does not influence the development of metacognition: this can be attributed to the fact that students do not receive specific training on metacognition at the liceo classico. On the other hand, teachers showed high levels of metacog-nition and stressed that a metacognitive tool is needed to help students do self-assessment in Latin and Greek and have more awareness in the use of metacognitive strategies.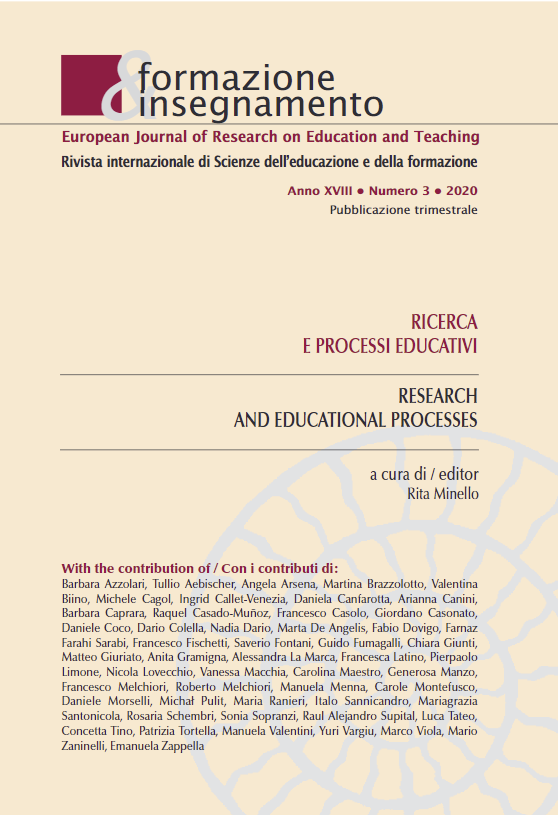 Downloads
How to Cite
Casado-Muñoz, R. ., La Marca, A. ., & Canfarotta, D. . (2020). Development of learning conceptions and metacognitive strategies of Latin and Greek language students in Italy and Spain. Formazione & Insegnamento, 18(3), 230–254. https://doi.org/10.7346/-fei-XVIII-03-20_19
License
Copyright (c) 2020 Pensa MultiMedia
This work is licensed under a Creative Commons Attribution 4.0 International License.
Formazione & insegnamento is distributed under Attribution 4.0 International (CC BY 4.0).
For further details, please refer to our Repository & Archiving Policy, as well as our Copyright & Licensing Terms.