Il dibattito regolamentato come metodo per acquisire competenze di gestione dei conflitti nella scuola
Abstract
Il dibattito e in particolare il dibattito regolamentato sono da sempre associati
a una valutazione imparziale degli opposti punti di vista e all'acquisizione
di importanti competenze. Alcuni studi hanno però dimostrato che
conducono alla polarizzazione, ossia a radicarsi nelle proprie posizioni,
tendenza a sua volta legata all'intensificazione dell'aggressività. Pertanto,
poiché il dibattito regolamentato è una metodologia formativa in ampia diffusione ma presenta ricadute da deprecare, è fondamentale chiedersi se sia
un metodo efficace per acquisire competenze di gestione dei conflitti almeno
nel contesto in cui viene proposto: la scuola. Partendo dal framework
teorico del dual concern, le ipotesi formulate riguardarono il cambiamento
degli atteggiamenti dei partecipanti a questi progetti sull'adozione di strategie
comunicative controversiali e cooperative verso i compagni di classe.
Un disegno quasi-sperimentale permise di rilevare che la partecipazione a
progetti di dibattito regolamentato rende più avversi all'impiego delle
strategie comunicative controversiali e favorisce una forte tendenza ad
adottare strategie cooperative verso i compagni di classe.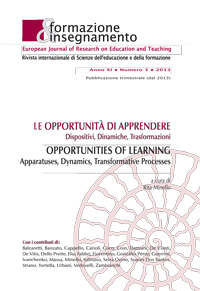 Downloads
How to Cite
De Conti, M. (2013). Il dibattito regolamentato come metodo per acquisire competenze di gestione dei conflitti nella scuola. Formazione & Insegnamento, 11(3), 143–152. Retrieved from https://ojs.pensamultimedia.it/index.php/siref/article/view/430
License
Copyright (c) 2013 Manuele De Conti
This work is licensed under a Creative Commons Attribution 4.0 International License.
Formazione & insegnamento is distributed under Attribution 4.0 International (CC BY 4.0).
For further details, please refer to our Repository & Archiving Policy, as well as our Copyright & Licensing Terms.