Le nuove politiche per la formazione continua degli insegnanti: creare contesti innovativi, estesi e interdipendenti
Abstract
Al centro della questione della professionalizzazione del docente c'è quello dell'identità professionale: "l'identità professionale dell'insegnante, non può essere pensata esclusivamente in termini di socializzazione all'interno di una professione o di interiorizzazione di norme e regole di comportamento prescritte, utilizza le dimensioni psicologiche dell'individuo, così come le sue dimensioni sociali" (Dilts 1997, p. 23). Il cuore del mestiere sta cambiando in relazione ai nuovi contesti istituzionali e culturali in cui si declina. L'insegnante si confronta: da un primo lato con la tensione delle pratiche professionali e dell'etica professionale di insegnante in relazione ai valori delle professioni di aiuto; da un altro lato con l'interazione di quattro registri di identità: identità personale
(rispetto a se stessi), identità sociale (rispetto agli altri), identità professionale (pratiche professionali, competenze), identità di mestiere (in rapporto a una comunità di pratica).  Dopo la rottura paradigmatica di una formazione modellizzante prescrittiva, quale curricolo per competenze implementare per la formazione degli insegnanti, per garantirne la professionalizzazione? Quali dispositivi ibridi configurare per far emergere le migliori potenzialità?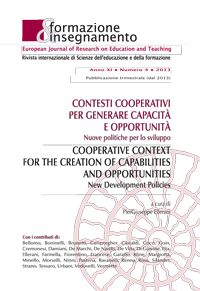 Downloads
How to Cite
Minello, R., & Tessaro, F. (2013). Le nuove politiche per la formazione continua degli insegnanti: creare contesti innovativi, estesi e interdipendenti. Formazione & Insegnamento, 11(4), 33–50. Retrieved from https://ojs.pensamultimedia.it/index.php/siref/article/view/387
License
Copyright (c) 2013 Rita Minello, Fiorino Tessaro
This work is licensed under a Creative Commons Attribution 4.0 International License.
Formazione & insegnamento is distributed under Attribution 4.0 International (CC BY 4.0).
For further details, please refer to our Repository & Archiving Policy, as well as our Copyright & Licensing Terms.