Bicocca The school-museum relationship in pre-service teacher training during the pandemic COVID-19: the Milano-Bicocca traineeship case
Abstract
The research starts from the thesis that in order to develop transversal competences of citizenship in the pupils it is necessary first of all to train the teachers to an active didactic action, co-designed between school and territory, that addresses socially vivid matters with the aim of developing critical thinking in the pupils. The first exploratory phase of the research involved tutor teachers and trainee students of the Degree in Primary Teacher Education at the University of Milan Bicocca in a survey on the use of the digital contents provided by museums during the lockdown imposed in 2020 by the COVID-19 pandemic. The analysis of the questionnaires showed that the use of the museums digital content was rare, and in none of the experiences collected has been established, within the traineeship pathway, a dialogue with the educational services of the museum. This data will be used to design case studies con-ducted with the Teacher Professional Development Research methodology, identified as the most coherent with the objectives of the research project, in order to develop teacher training models on citizenship and heritage ed-ucation, characterised by a strong link with the territory and transdisciplinary. Through classroom observations, will be collected documentation for analysing teaching practices also with the aim of defining, together with stu-dents and teachers, assessment tools consistent with a with competence-based design.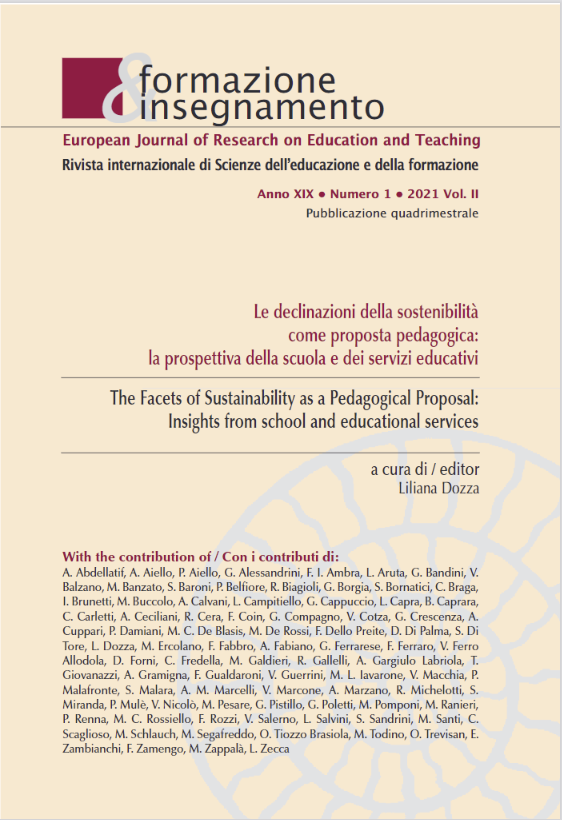 Downloads
How to Cite
Fredella, C. . (2021). Bicocca The school-museum relationship in pre-service teacher training during the pandemic COVID-19: the Milano-Bicocca traineeship case. Formazione & Insegnamento, 19(1 Tome II), 702–720. https://doi.org/10.7346/-fei-XIX-01-21_60
License
Copyright (c) 2021 Pensa MultiMedia
This work is licensed under a Creative Commons Attribution 4.0 International License.
Formazione & insegnamento is distributed under Attribution 4.0 International (CC BY 4.0).
For further details, please refer to our Repository & Archiving Policy, as well as our Copyright & Licensing Terms.