L'espansione sociale della professionalità docente
Abstract
Nell'educazione prescolastica si fa largo una nuova prospettiva di formazione permanente che comprende i contesti di apprendimento allargati nella definizione del sistema educativo, contribuendo a formulare in senso inclusivo una pratica di cittadinanza attiva. Ciò comporta importanti ricadute sul riconoscimento e sulla qualificazione professionale della figura docente: la promozione di forme cooperative e partecipative allargate esprime un nuovo modo di considerare la comunità educativa nel suo aspetto di pratica sociale negoziata. Ciò provoca una ridefinizione delle competenze
soprattutto relazionali tradizionalmente associate al ruolo docente
per avvicinarlo ad un concetto di sviluppo professionale affine ad una progettualità realizzativa in senso capacitativo. Ripensare politiche formative professionali per gli insegnanti significa ridefinire strategie capaci di attivare azioni di capacitazione emergenti da dimensioni di tipo sociale, pratico-esperienziale e di valore.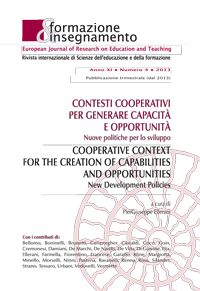 Downloads
How to Cite
Urbani, C. (2013). L'espansione sociale della professionalità docente. Formazione & Insegnamento, 11(4), 153–160. Retrieved from https://ojs.pensamultimedia.it/index.php/siref/article/view/398
License
Copyright (c) 2013 Chiara Urbani
This work is licensed under a Creative Commons Attribution 4.0 International License.
Formazione & insegnamento is distributed under Attribution 4.0 International (CC BY 4.0).
For further details, please refer to our Repository & Archiving Policy, as well as our Copyright & Licensing Terms.