Notes for a phenomenological pedagogy of the 'bewusste Bewegung des Leibes'
Abstract
The present paper intends to highlight the meaning and the peculiar value of human corporeity and its faculties of voluntary, intentional, free and creative movement. The starting point is supported by some fundamental results of phenomenological reflection which, thanks to the overcoming of the substantial dualism between soul and body that has marked the whole history of Western philosophy, recovers the integrity of the human person in the rediscovery of his corporeity. We intend to propose a contribution on the gnoseology of the motor sciences – which too often have seen their experts chasing the challenges of the contemporary without success – in the hope that we can continue a fruitful debate, which will involve all the experts of this emerging and still fragmented discipline. A solid epistemological foundation of the motor sciences could bring precious contributions and incentives to the progress of all the human sciences, and in a peculiar way to the pedagogical ones. The first step we take in this direction concerns the rediscovery of the expressive and communicative value of human motility. The main crux explained in the present work consists in having highlighted how – in spite of drastic and derogatory positions – that attempt to justify in absolute terms conceptions that ontologically degrade man and its constitutive dimensions, body and motor skills in primis, there are valid reasons to support a positive prospect of the full exploitation of human corporeality and of what we will call 'bewusste Bewegung des Leibes'.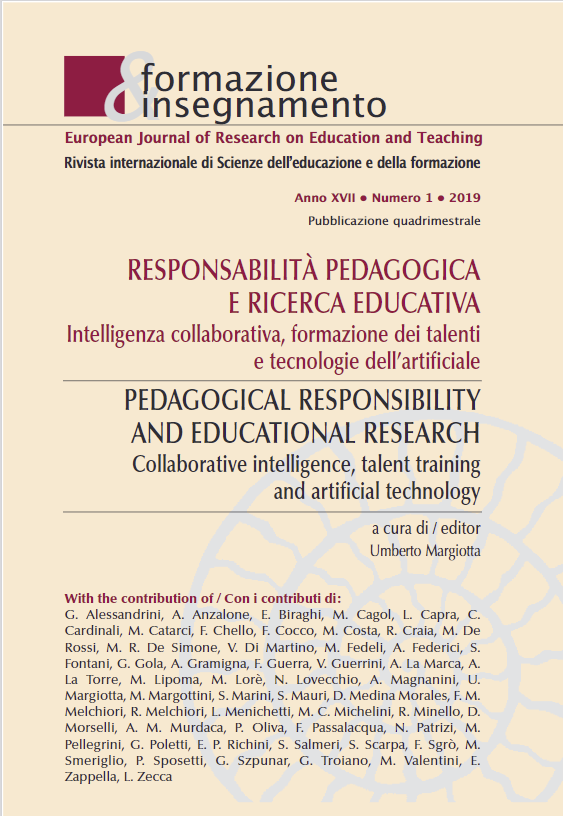 Downloads
How to Cite
Scarpa, S. (2019). Notes for a phenomenological pedagogy of the 'bewusste Bewegung des Leibes'. Formazione & Insegnamento, 17(1), 181–194. Retrieved from https://ojs.pensamultimedia.it/index.php/siref/article/view/3423
License
Copyright (c) 2019 Pensa MultiMedia
This work is licensed under a Creative Commons Attribution 4.0 International License.
Formazione & insegnamento is distributed under Attribution 4.0 International (CC BY 4.0).
For further details, please refer to our Repository & Archiving Policy, as well as our Copyright & Licensing Terms.