What is essential is invisible: Rethinking school thanks to the contribution of Amartya Sen
Abstract
The school in general, and particularly teachers who teach in it, have the task of removing obstacles, recognizing the inequalities and valuing the differences, so that the school becomes a place of meeting and dialogue. Accordingly, by cooperating students can strengthen their identity and construct free and democratic life projects. School is the place in which they develop and enhance skills and capabilities in addition to received knowledge— given knowledge is intertwined with know-how so that the subject comes into being/existence in the world in an authentic and unique way.
Teachers are required to think about themselves and their professionalism and to constantly be aware of what they are doing for themselves and for the others within the framework of training—given that social repercussions are inevitable.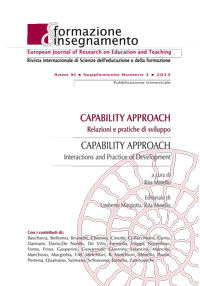 Downloads
How to Cite
Collacchioni, L. (2013). What is essential is invisible: Rethinking school thanks to the contribution of Amartya Sen. Formazione & Insegnamento, 11(1 Suppl.), 201–208. Retrieved from https://ojs.pensamultimedia.it/index.php/siref/article/view/636
License
Copyright (c) 2013 Luana Collacchioni
This work is licensed under a Creative Commons Attribution 4.0 International License.
Formazione & insegnamento is distributed under Attribution 4.0 International (CC BY 4.0).
For further details, please refer to our Repository & Archiving Policy, as well as our Copyright & Licensing Terms.