Provincial Centers for Adult Education: A Welcoming Territorial Service Network
Keywords:
CPIA, Andragogy, Territorial network, Acceptance
Abstract
This contribution aims to reflect on the opportunities for inclusion that the CPIAs can offer to adults. The peculiarity of adult learners and the networked organization of the aforementioned centers suggest that managers and teachers involved in Adult Education open up to the territory, after analyzing it, in order to enter into fruitful educational alliances. The reading of the context and the interpretation of the skills needs of adult users must lead to a revision of the PTOF to make it more functional to the requests of the stakeholders and to the institutional purposes of the CPIAs which, as a reference for the creation of territorial networks for lifelong learning, must promote the raising of educational levels.
References
Bastien, H. (1954). Psychologie de l'apprentissage pèdagogique. Montreal, pp. 85; tr.it., Brescia, La Scuola. (Originariamente pubblicato nel 1951).
Bruscaglioni, M. (2007). La gestione dei processi nella formazione degli adulti (10 ed). Milano, FrancoAngeli.
Camera dei deputati ed il Senato della Repubblica. (2012, 18 luglio). LEGGE 28 giugno 2012, n. 92 Disposizioni in materia di riforma del mercato del lavoro in una prospettiva di crescita.
Disponibile in: https://www.gazzettaufficiale.it/eli/id/2012/07/03/012G0115/sg [28 luglio, 2021].
D'Ugo, R. (2010). Città e terza età. Lecce: Pensa MultiMedia.
Faris, R. (2002). The Web of Life and the Web of Learning: Electronic Networking and Learning Communities. Melbourne: Community Networking, Building Community.
Gardner, H. (1987). Frames of Mind The Theory of Multiple Intelligences. New York: Basic Books. Trad. it.: Formae mentis (Originariamente pubblicato nel 1983).
Istituto Nazionale di Statistica. (2020). Livelli di istruzione e ritorni occupazionali anno 2019: Statistiche Report. https://www.istat.it/it/files/2020/07/Livelli-di-istruzione-e-ritorni-occupazionali.pdf [10 gennaio, 2022].
INVALSI (2020). Scoprire i Centri Provinciali per l'Istruzione degli Adulti: contesti, ambienti, processi. Dati dal Questionario CPIA Valu.E e dal Rapporto di autovalutazione.
https://www.invalsi.it/value/docs/valueforrav/RAPPORTO_CPIA_VALU.E_feb20.pdf [28 luglio, 2021].
Loiodice, I. (2017). Apprendimento e formazione per la costruzione dell'identità del professionista adulto. Metis, 1, 5-10.
Ministero dell'Istruzione, dell'Università e della Ricerca di concerto con il Ministero dell'Economia e delle Finanze. (2015, June 8). Linee Guida, di cui all'art. 11, comma 10 del d.P.R. 29 ottobre 2012 n. 263 per il passaggio al nuovo ordinamento a sostegno dell'autonomia organizzativa e didattica dei Centri provinciali per l'istruzione degli adulti (CPIA). Retrieved from http://www.cpiavv.gov.it/wp-content/uploads/2016/09/2014_linee_guida_cpia.pdf, paragrafo 3.1.3. [28 luglio, 2021].
Ministero dell'Istruzione. (2020). Piano scuola 2020-2021. Documento per la pianificazione delle attività scolastiche, educative e formative in tutte le Istituzioni del Sistema nazionale di Istruzione [28 luglio, 2021].
Knowles, Malcolm S. (1993) Quando l'adulto impara: Pedagogia e andragogia (Prefazione di Dante Bellamio; Trad.; 6 ed). Milano. FrancoAngeli. (Originariamente pubblicato nel 1970).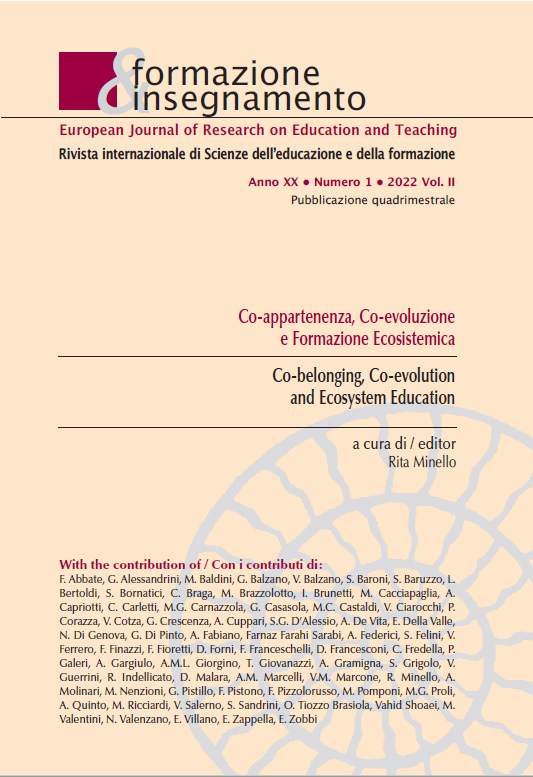 Downloads
License
Copyright (c) 2022 Giovanni Di Pinto
This work is licensed under a Creative Commons Attribution 4.0 International License.
Authors that publish in Formazione & insegnamento accept the following conditions:
Authors keep their copy rights for their work and give the journal only the right of first publication and distribution of it. Concurrently, the work is licensed under Attribution 4.0 International (CC BY 4.0), which allows others to share their work porovided they attribute it to their original author and acknowledge its first appearance in this journal.
Authors might engage in other licensing agreements, provided such agreements are 

non exclusive

regarding the distribution of the published work (e.g., place a copy in a physical institutional repository, or publish it in a book). In this case, the authors must acknowledge in the new version of the work that it was first published on this journal.
Authors may distribute their accepted manuscripts (pre-print) online (e.g., online repositories, personal website) during the publication process. This is allowed because it is the source of informed exchange with peers and increases the value of the published work. Please be aware that the distribution and dissemination to peer and through archives does not constitute a "publication" in a volume belonging to a series (ISSN): Formazione & insegnamento publishes previously unpublished works.