Sport as an educational practice
Keywords:
Pedagogy, Life skills, Education, Sports, Movement, Health, Well-being, Learning, Values
Abstract
By promoting positive values though physical activity, sport acts as a fundamental educational tool. The analysis of pedagogical theories and educational experimentations show the way sport can promote effective and constructive qualities, thanks to conscious student-centered projects and a careful use of active learning strategies for the promotion of life skills. The purpose of this paper is to highlight the practices and strategies that can determine the art of "sport" in an educational perspective. Nowadays, sport can overcome cultural and social barriers thanks to more performing methodologies that are close to the new generations. The innovative and educational development of sports activities is effective, and can facilitate and support the educational growth of the community, especially that of the youth.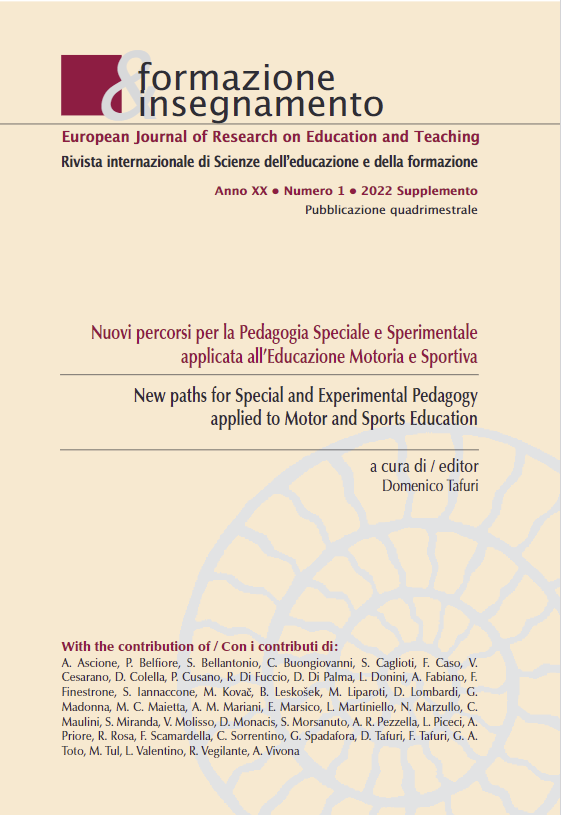 Downloads
How to Cite
Caso, F., & Tafuri, F. (2022). Sport as an educational practice. Formazione & Insegnamento, 20(1 Suppl.), 298–306. https://doi.org/10.7346/-feis-XX-01-22_26
License
Copyright (c) 2022 Pensa MultiMedia
This work is licensed under a Creative Commons Attribution 4.0 International License.
Formazione & insegnamento is distributed under Attribution 4.0 International (CC BY 4.0).
For further details, please refer to our Repository & Archiving Policy, as well as our Copyright & Licensing Terms.