Functional training as a pedagogical process
Keywords:
Movement Education, Coordination and conditioning skills, Functional training, Values, Psycho-physical well-being
Abstract
The progressive and significant increase in motor and sports activities has allowed it to gain great relevance in different everyday life contexts, thus recognizing the educational nature that sport has taken on over time and becoming an important aspect of all the main social interaction contexts. In recent years, the body and movement have gained significant space among the areas of pedagogical reflection, and so motor and sports activities represent a remarkably important dimension as specific systems of education, the conditions of educability of which must be highlighted so that sport can represent a context of life aimed at empowering all subjects. Therefore, pedagogy offers young people a balanced growth also from a socialization point of view, aimed at promoting a healthy lifestyle, psychophysical well-being and the positive responses it generates throughout life. What emerges is the need to promote sports education, given its importance in the educational system starting from elementary school, up to secondary schools and universities. The need is to enhance the educational, sports, preventive, cultural and social purposes for the person's growth in a free and democratic environment, which values diversity and therefore inclusion.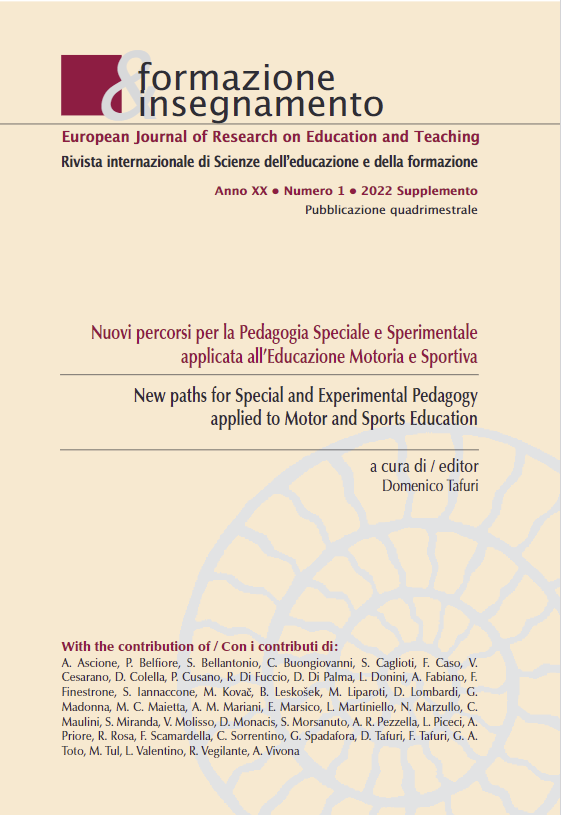 Downloads
How to Cite
Caso, F., & Donini, L. . (2022). Functional training as a pedagogical process. Formazione & Insegnamento, 20(1 Suppl.), 189–201. https://doi.org/10.7346/-feis-XX-01-22_16
License
Copyright (c) 2022 Pensa MultiMedia
This work is licensed under a Creative Commons Attribution 4.0 International License.
Formazione & insegnamento is distributed under Attribution 4.0 International (CC BY 4.0).
For further details, please refer to our Repository & Archiving Policy, as well as our Copyright & Licensing Terms.