Teaching games for understanding
Keywords:
Tgfu, Teaching, Games, Sport, Physical education
Abstract
The aim of this article is to show the state of the art of the Teaching Games for Understanding (Thorpe R., Bunker D., 1982) through the analysis of the literary review. The words teaching games for understanding (Tgfu) mean in schools and sports context, a teaching model designed for physical education, as an original modification of the global-analytic-global system. Scientific literature looks to be very careful to the topic, showing many different points of view. About Tgfu there are so many methodologies and procedures, contrasting and similar at the same time. The aim of the project is a careful analysis of the studies about Tgfu, among the different points of view of the researches about it. The aim is also comparing procedures and problems, common characteristics and differences, highlighting where it is possible, the seeming gaps and any other possible study areas to explore.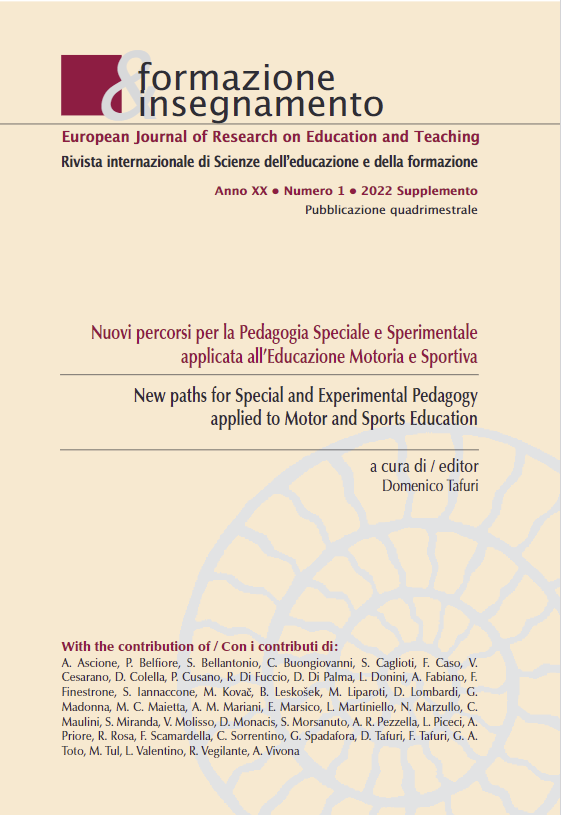 Downloads
How to Cite
Scamardella, F., & Cusano, P. (2022). Teaching games for understanding. Formazione & Insegnamento, 20(1 Suppl.), 013–018. https://doi.org/10.7346/-feis-XX-01-22_02
License
Copyright (c) 2022 Pensa MultiMedia
This work is licensed under a Creative Commons Attribution 4.0 International License.
Formazione & insegnamento is distributed under Attribution 4.0 International (CC BY 4.0).
For further details, please refer to our Repository & Archiving Policy, as well as our Copyright & Licensing Terms.