Interacting with the development discourses of a territory: a research on the effects of the crisis by COVID-19 in system of socio-educational services in Lombardy
Abstract
What happens when an unexpected global event disrupts the organisation of a territorial system of socio-educational services? How can the emergence of learning from below interact with the development discourses of that territory? This paper describes the complex interaction of bottom-up and top-down processes in a research involving some disability services in the District of Lecco (Lombardy), starting from the situation created by the national lockdown following the SARS-CoV-2 pandemic. The research used a co-operative inquiry methodology (Heron, 1996) involving service coordinators, managers of social cooperatives and institutional referents. The analysis of the data revealed indications of transformative learning (Mezirow, 1991) which provided the elements to design a training course for innovation in local educational and social practices for the social inclusion of people with disabilities.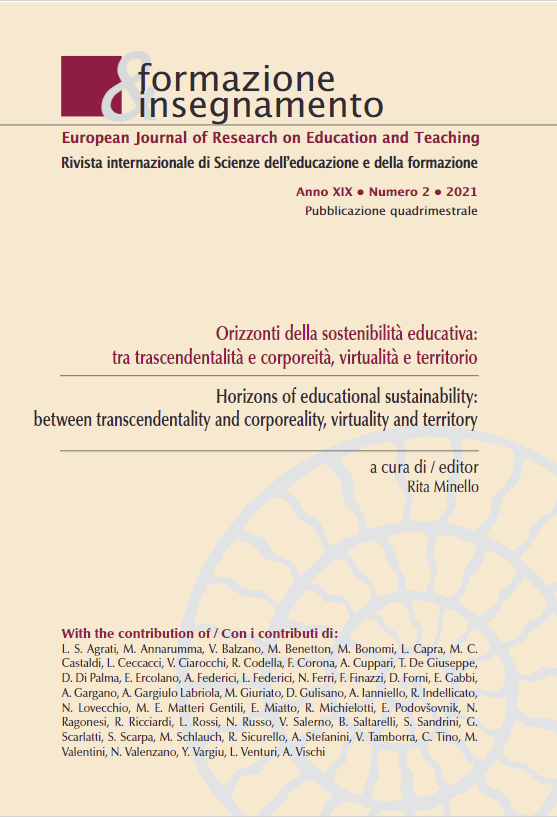 Downloads
How to Cite
Cuppari, A. (2021). Interacting with the development discourses of a territory: a research on the effects of the crisis by COVID-19 in system of socio-educational services in Lombardy. Formazione & Insegnamento, 19(2), 040–049. https://doi.org/10.7346/-fei-XIX-02-21_04
License
Copyright (c) 2021 Pensa MultiMedia
This work is licensed under a Creative Commons Attribution 4.0 International License.
Formazione & insegnamento is distributed under Attribution 4.0 International (CC BY 4.0).
For further details, please refer to our Repository & Archiving Policy, as well as our Copyright & Licensing Terms.