Students' perception of distanced learning: a retrospective analysis
Abstract
Introduction. In March 2020, the Italian Ministry of Health prohibited individuals' movement in the whole national territory. Schools closed, and teacher, educators, and students had to adapt to distanced learning ever since. However, the Italian National Institute of Statistic reported that only one student out of four could follow distanced learning, especially in the country's poorest regions. Aim. To explore the evolution of distanced learning and produce evidence upon students' perception of the past year's educational experiences. Methods. The research team analysed two questionnaires conducted at a different time during the lockdown, in April and December 2020. The analysis was conducted using a quantitative approach and Cohen's h effect size. Results. Data showed no improvements to the learning experience, leaving students with a poor, disadvantaged didactic experience. However, the data also showed an increment in students' relationship abilities. Conclusion. It is then possible to conceive new intervention paradigms to foster the educational experience and prevent further students' dropouts. Considering the embodied theories that have been neglected during the lockdown, the upcoming years of education are a call for responsibility to all adults (not only teachers and educators) since the health and education of the children, nationally and internationally, is at stake.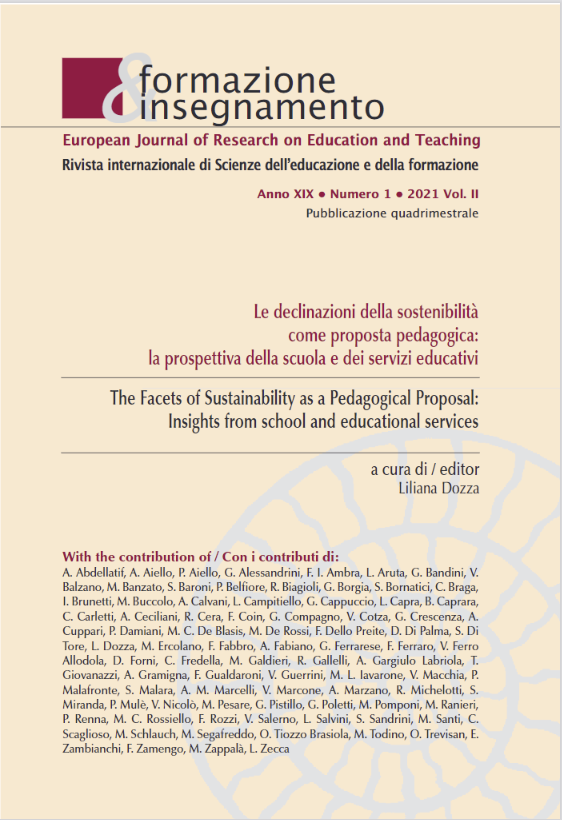 Downloads
How to Cite
Ferraro, F. V. ., Ambra, F. I. ., Aruta , L. ., & Iavarone, M. L. . (2021). Students' perception of distanced learning: a retrospective analysis. Formazione & Insegnamento, 19(1 Tome II), 533–543. https://doi.org/10.7346/-fei-XIX-01-21_47
License
Copyright (c) 2021 Pensa MultiMedia
This work is licensed under a Creative Commons Attribution 4.0 International License.
Formazione & insegnamento is distributed under Attribution 4.0 International (CC BY 4.0).
For further details, please refer to our Repository & Archiving Policy, as well as our Copyright & Licensing Terms.