Promoting preservice teachers' intercultural sensibility: empathy, prejudice reduction and inclusion
Abstract
This paper considers the framework of social and intercultural pedagogy and focuses the important role of training for preservice teachers, in order to develop an intercultural perspective to promote and to respect diversity in didactic and educative practices. The paper presents an explorative research which involved students attending the III and the IV years at Sapienza University, in Education Science. The research involves students in a training focused on strategies to prejudice reduction to be applied in ordinary curricula in school contexts (intergroup contact, empathy). Before and after the training, students are asked to answer to questionnaire to measure implicit and explicit prejudice.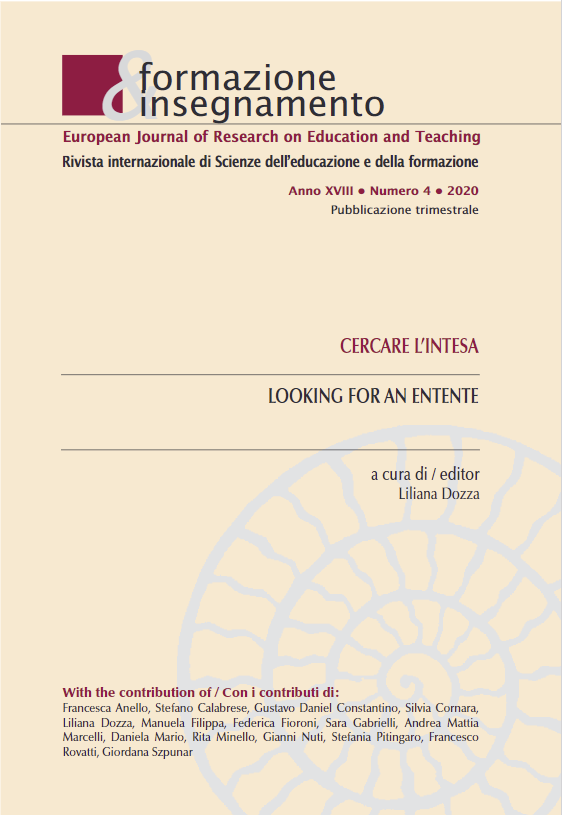 Downloads
How to Cite
Szpunar, G. ., & Gabrielli, S. . (2020). Promoting preservice teachers' intercultural sensibility: empathy, prejudice reduction and inclusion. Formazione & Insegnamento, 18(4), 98–108. https://doi.org/10.7346/-fei-XVIII-04-20_08
License
Copyright (c) 2020 Pensa MultiMedia
This work is licensed under a Creative Commons Attribution 4.0 International License.
Formazione & insegnamento is distributed under Attribution 4.0 International (CC BY 4.0).
For further details, please refer to our Repository & Archiving Policy, as well as our Copyright & Licensing Terms.