Il concetto di regola nelle sue declinazioni ludico-educative e didattico-sportive
Abstract
La ricerca mostra come la pratica delle regole contribuisca alla maturazione
infantile, riconoscendo nell'ambito ludico-motorio una felice opportunità
educativa. Il concetto di regola è stato affrontato nel suo orizzonte morale,
anche attraverso l'accostamento ai più importati pensatori del mondo antico
e moderno. Si è inoltre analizzato il modo in cui il riconoscimento della
regola si sviluppa nel bambino durante la scuola primaria e come il gioco e
lo sport possano contribuire alla crescita della persona.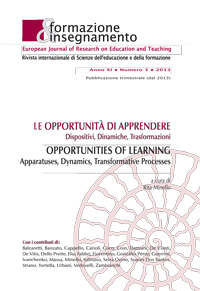 Downloads
How to Cite
Coco, D. (2013). Il concetto di regola nelle sue declinazioni ludico-educative e didattico-sportive. Formazione & Insegnamento, 11(3), 121–128. Retrieved from https://ojs.pensamultimedia.it/index.php/siref/article/view/427
License
Copyright (c) 2013 Daniele Coco
This work is licensed under a Creative Commons Attribution 4.0 International License.
Formazione & insegnamento is distributed under Attribution 4.0 International (CC BY 4.0).
For further details, please refer to our Repository & Archiving Policy, as well as our Copyright & Licensing Terms.