Temporalità e narratività: per una valorizzazione dei luoghi dell'educazione
Abstract
Gli elementi della narratività e della temporalità consentono di delineare la specificità degli ambienti di vita intesi come luoghi educativi in grado di
generare opportunità di apprendimento, di crescita e di sviluppo del Sé. La narratività, intesa come incontro e condivisione di storie, apre lo sguardo verso la prospettiva della reciprocità e della co-evoluzione, la temporalità garantisce la continuità delle esperienze vissute nei molteplici luoghi di vita (tra passato e presente al fine di costruire la personale prospettiva futura).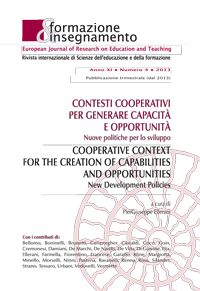 Downloads
How to Cite
Fiorentino, E. (2013). Temporalità e narratività: per una valorizzazione dei luoghi dell'educazione. Formazione & Insegnamento, 11(4), 241–246. Retrieved from https://ojs.pensamultimedia.it/index.php/siref/article/view/410
License
Copyright (c) 2013 Emanuela Fiorentino
This work is licensed under a Creative Commons Attribution 4.0 International License.
Formazione & insegnamento is distributed under Attribution 4.0 International (CC BY 4.0).
For further details, please refer to our Repository & Archiving Policy, as well as our Copyright & Licensing Terms.