Models and researches on active commuting to primary school
Abstract
The theme of the children active commuting to primary school is largely underrepresented, at interdisciplinary level, in the scientific literature and in the international documents. This shortcoming is even more true for comparative studies at European level, presenting inconsistences, and in the case of Italy, in which the scientific literature is limited to sporadic researches. Furthermore, in Italy, the active mobility, above all that independent, is among the lowest in Europe. The article describes, at first, ecological and conceptual models explaining the requirement of a complex approach to a matter that is interdisciplinary from a research point of view and intersectoral from the point of view of the interventions. In the second and third parts, the analysis of the comparative researches, of the documents of international organizations, and of the recent scientific literature proves the relevance of the active school commuting in the promotion of active lifestyles. The analysis ends describing a recent idiographic, quali-quantitative, and longitudinal research carried out in Italy. The research shows worrisome results in terms of active mobility but also encouraging data about the efficacy of the interventions. It is therefore evident, through the analysis and the discussions carried out, the necessity, with the aim to improve the quantity of children's everyday physical activity, to operate through complex, ecological frameworks, which can conceptualize the researches and the pilot-interventions.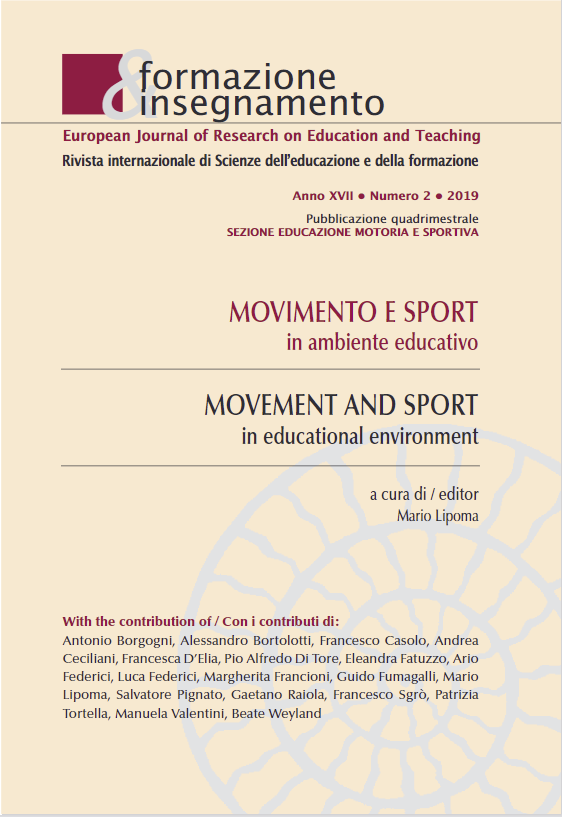 Downloads
How to Cite
Borgogni, A. (2019). Models and researches on active commuting to primary school. Formazione & Insegnamento, 17(2), 11–24. Retrieved from https://ojs.pensamultimedia.it/index.php/siref/article/view/3563
License
Copyright (c) 2019 Pensa MultiMedia
This work is licensed under a Creative Commons Attribution 4.0 International License.
Formazione & insegnamento is distributed under Attribution 4.0 International (CC BY 4.0).
For further details, please refer to our Repository & Archiving Policy, as well as our Copyright & Licensing Terms.