The Finnish School on the Move programme: policy-making and implementation strategies for Italy
Abstract
The aim of the article is to analyse from scientificand policy viewpoints the Finnish Schools on
the Move program inferring strategies and actions applicable to the Italian case.
The article presents, through a fact sheet, the actual Finnish situation about physical activity
policies and research. The analysis of the updated scientific literature about the results is complemented
by the description of the program's background and current design.
From scientific point of view the article, beyond the literature review, is based on a documentary
analysis on interviews (n=2) with key informants and field observations (n=3) of schools
participating in the program.
Presuming that there are not comprehensive models that can be transferred from a country to
another, the article emphasizes, for the Italian case, the actions feasible at short term, changing
rules at school level, those achievable at medium term, changing organization at community
level, and those requiring deeper cultural and legislative modifications.
At policy making level, it is plausible that some programs and actions of the Finnish program
would be costless in Italy: some depend on a better destination of already available resources,
several are possible through inter-sectors policies; all the strategies and actions, however, require
to be assessed and monitored through researches entrusted to a university network in
collaboration with sport and public health institutions and organizations.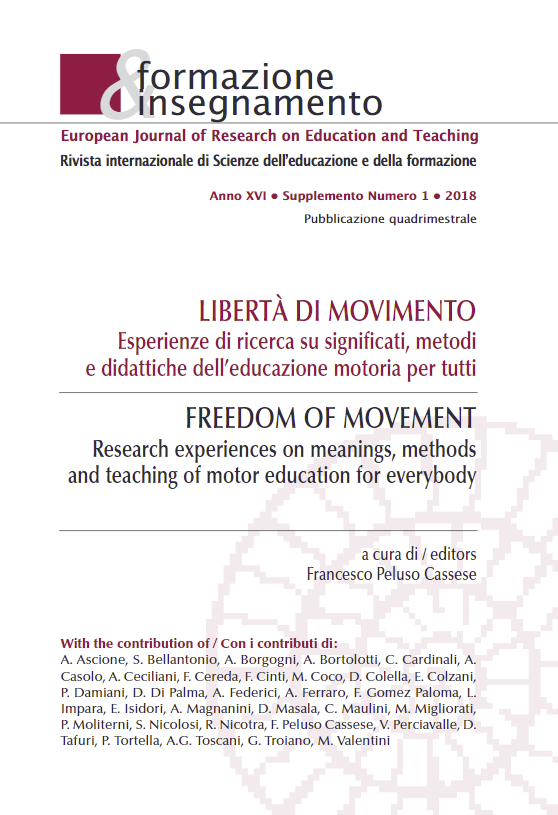 Downloads
How to Cite
Borgogni, A. (2018). The Finnish School on the Move programme: policy-making and implementation strategies for Italy. Formazione & Insegnamento, 16(1 Suppl.), 169–182. Retrieved from https://ojs.pensamultimedia.it/index.php/siref/article/view/2773
License
Copyright (c) 2018 Antonio Borgogni
This work is licensed under a Creative Commons Attribution 4.0 International License.
Formazione & insegnamento is distributed under Attribution 4.0 International (CC BY 4.0).
For further details, please refer to our Repository & Archiving Policy, as well as our Copyright & Licensing Terms.