Performance education
Keywords:
Human skills, Motor education, Lifelong learning, Training, Mental and physical well-being
Abstract
This work is intended to highlight the importance of sport and motor activity in general, and the impact they have in people's lives. A toned and trained body is the only antidote to the predominant presence of technology and computer systems in people's lives, which increasingly lead to excessive simplification/absence of motor actions. Education to movement and its customary practice must start from kindergarten, in a lifelong learning perspective. The body is healthy only thanks to movement, be it a sport performance or a simple motor action. The fundamental role of motor sciences is to merge the specific knowledge of movement sciences with motor education. The core of the didactic and educational process of movement science is not the discipline, but the person. Motor education facilitates and enhances new skills, new experiences that become part of the educational background of every human being. A greater presence of motor education at school, together with the values linked to it, must be the main objectives of an evolved society that focuses on the person, his/her abilities and psychophysical wellbeing.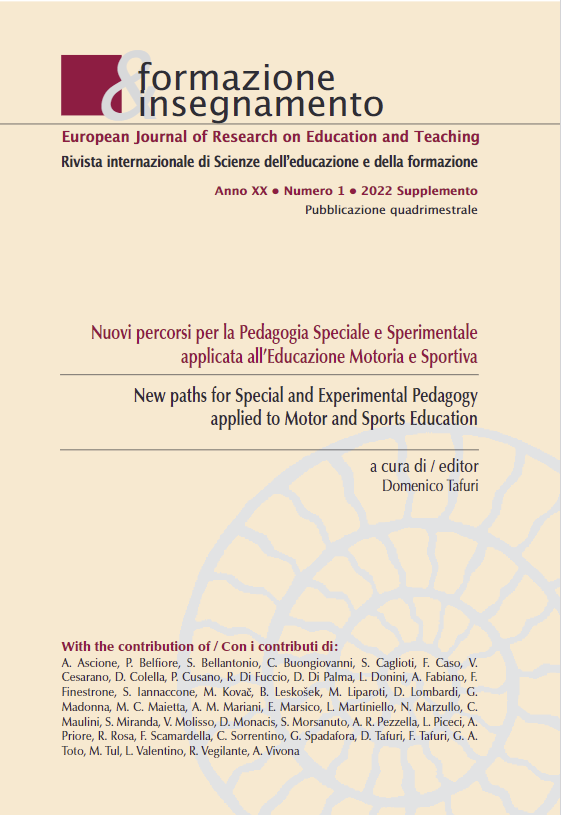 Downloads
How to Cite
Marzullo, N., & Valentino, L. (2022). Performance education. Formazione & Insegnamento, 20(1 Suppl.), 209–216. https://doi.org/10.7346/-feis-XX-01-22_18
License
Copyright (c) 2022 Pensa MultiMedia
This work is licensed under a Creative Commons Attribution 4.0 International License.
Formazione & insegnamento is distributed under Attribution 4.0 International (CC BY 4.0).
For further details, please refer to our Repository & Archiving Policy, as well as our Copyright & Licensing Terms.