Promote school inclusion through physical education: Train teachers in the UDL perspective
Abstract
The purpose of thus contribution is to explore the inclusive potential of Universal Design for Learning (UDL) and its didactic implications, recognizing the importance of this approach in the training of Physical Education teachers to ensure active participation and learning of all students in Physical and Sports Education, where the UDL perspective should be understood as teaching capable of being, from the planning stage, inclusive for all the students in the class. In this sense, the UDL lends itself to a multidimensional vision of the development of the corporeality of the person, which must be considered in an educational key in all its entirety and allows the creation of a personalized teaching attentive to the enhancement of the differences of each, in order to reach educational goals for all, putting in place training projects of the physical and sports education for disabled and non-disabled students , through the organization of physical activities that meet the educational needs of each and every one.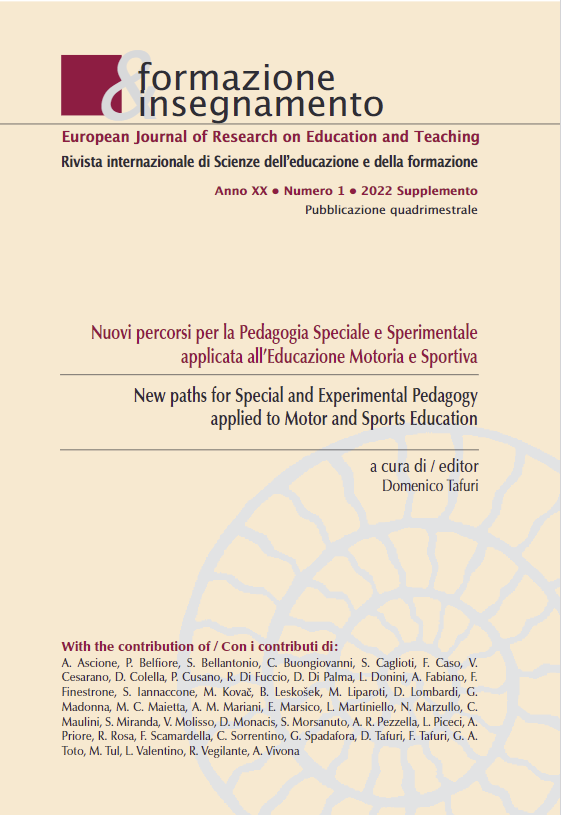 Downloads
How to Cite
Cesarano, V., & Valentino, L. (2022). Promote school inclusion through physical education: Train teachers in the UDL perspective. Formazione & Insegnamento, 20(1 Suppl.), 270–279. https://doi.org/10.7346/-feis-XX-01-22_24
License
Copyright (c) 2022 Pensa MultiMedia
This work is licensed under a Creative Commons Attribution 4.0 International License.
Formazione & insegnamento is distributed under Attribution 4.0 International (CC BY 4.0).
For further details, please refer to our Repository & Archiving Policy, as well as our Copyright & Licensing Terms.