Pedagogy in the digital age: the role of social media in promoting physical activity
Keywords:
Social Media, Physical Activity, Digital Pedagogy, Wellness, Facebook
Abstract
The literature of different areas of study reports that social media, especially new social media (Facebook), plays an important role for society in the third millennium: consequently, this issue requires the continuous attention of the pedagogical community as well. Facebook has had great potential to increase knowledge and perception of the concept of well-being and motor education, but its role is still being defined. The aim of the paper is to demonstrate, through an online survey, how and how much Facebook promotes well-being by encouraging the practice of motor activity. Statistical data analysis, used in an integrated and complementary approach, was multiple match analysis, cluster analysis, and cross-tabs. The final sample consisted of 1,820 Facebook users. Social media websites are widely used not only by the younger generation, but also by the adult and elderly population to find information regarding well-being and motor activity. Starting from the results of the research, it can be argued that Facebook users would like to have more "certified information" on the education of motor practice through social media.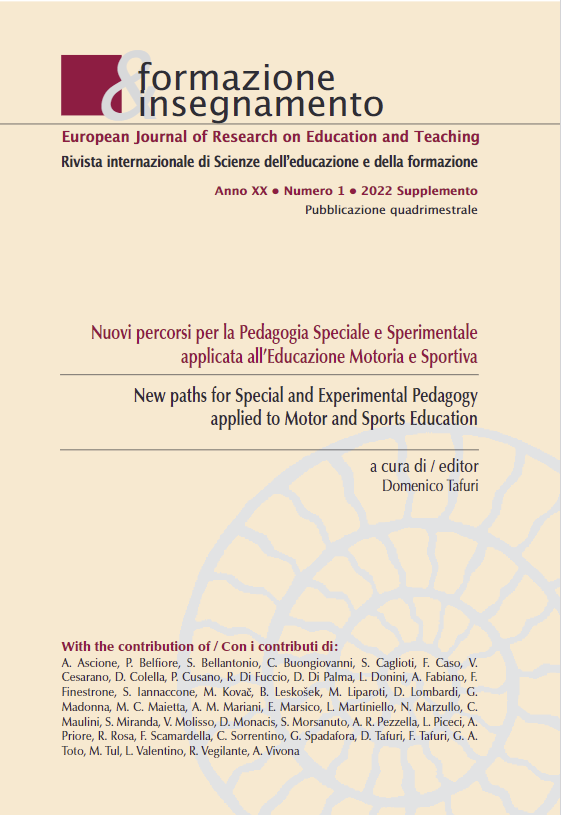 Downloads
How to Cite
Belfiore, P. (2022). Pedagogy in the digital age: the role of social media in promoting physical activity. Formazione & Insegnamento, 20(1 Suppl.), 035–047. https://doi.org/10.7346/-feis-XX-01-22_04
License
Copyright (c) 2022 Pensa MultiMedia
This work is licensed under a Creative Commons Attribution 4.0 International License.
Formazione & insegnamento is distributed under Attribution 4.0 International (CC BY 4.0).
For further details, please refer to our Repository & Archiving Policy, as well as our Copyright & Licensing Terms.