'I ask myself: but are they really gifted?'. Genius and giftedness at school
Abstract
Teachers' perspectives reveal some beliefs that would play a fundamental role in orienting teaching intervention in everyday life (Vannini, 2012). The present study investigated in particular the perceptions of some teachers on the idea of giftedness and the interpretations of the clinical document attesting giftedness, through psychological tests. Giftedness, according to some teachers, would mainly concern having above average intellectual abilities (Robinson, Ziegler and Gallagher, 2000); while, according to others, it would be defined with aspects of personality, such as motivation and creativity (Speirs Neumeister et al. (2007). Our data confirmed those that already emerged from the scientific literature, even if it seems that some Italian teachers integrated the relational dimension to define giftedness, adopting a perspective of disharmony. The interpretations on the clinical evaluation of giftedness offered a varied range of perceptions: it is a tool to know better the pupil; a confirmation of what the teacher suspected; a useful document to protect the rights of gifted children; however, in some cases, the assessment is questioned as there would be no correspondence between the teacher's expectations (all posi-tive and very high) and the classroom attitude of the child considered. In this sense, a romantic vision of genius remains: the gifted child would be who excels.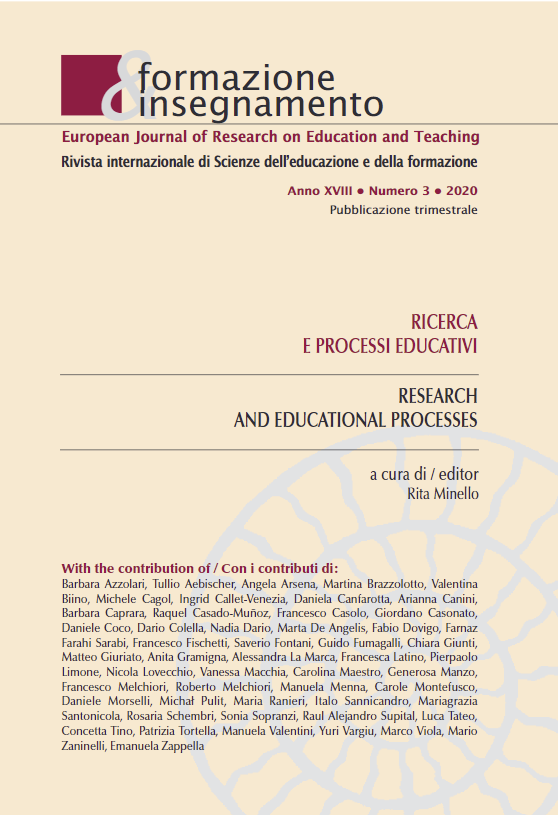 Downloads
How to Cite
Brazzolotto, M. . (2020). 'I ask myself: but are they really gifted?'. Genius and giftedness at school. Formazione & Insegnamento, 18(3), 339–354. https://doi.org/10.7346/-fei-XVIII-03-20_27
License
Copyright (c) 2020 Pensa MultiMedia
This work is licensed under a Creative Commons Attribution 4.0 International License.
Formazione & insegnamento is distributed under Attribution 4.0 International (CC BY 4.0).
For further details, please refer to our Repository & Archiving Policy, as well as our Copyright & Licensing Terms.