In-service teacher training on giftedness
Abstract
The prejudices on giftedness, such as believing that gifted children do not
need special attention from the teacher (Zanetti, 2016), to influence teaching.
Designing training courses on giftedness means deepening these issues
and co-building with teachers the inclusive activities for the students,
as well through tutoring. At the same time, the trainer, in addition to supporting
the teachers, can better understand the teachers' perceptions and
re-design a new course, as a reflective professional (Schön, 1983). From our
experiences, it emerges the question of the "label" of giftedness, questioned
by some teachers, as it does not seem to correspond to the student's
attitudes. Furthermore, the affective dimension of the educational relationship
seems to play an important role in the teacher training: the guilt feelings
that a teacher has in providing activities designed for a student with
giftedness, fearing to neglect who, according to her, is more in difficulty,
seems to hinder a full inclusion.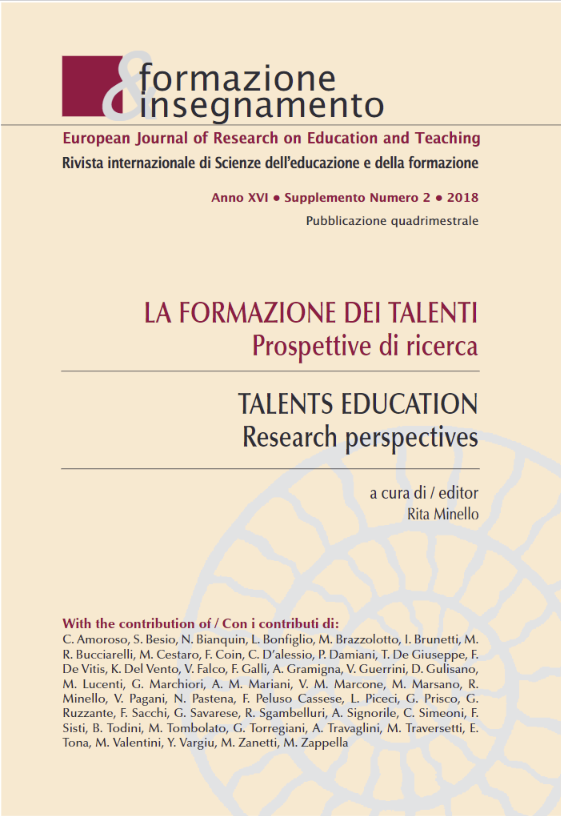 Downloads
How to Cite
Brazzolotto, M. (2018). In-service teacher training on giftedness. Formazione & Insegnamento, 16(2 Suppl.), 215–226. Retrieved from https://ojs.pensamultimedia.it/index.php/siref/article/view/3046
License
Copyright (c) 2018 Martina Brazzolotto
This work is licensed under a Creative Commons Attribution 4.0 International License.
Formazione & insegnamento is distributed under Attribution 4.0 International (CC BY 4.0).
For further details, please refer to our Repository & Archiving Policy, as well as our Copyright & Licensing Terms.