Educate to social citizenship. New possible paths of pedagogical research in the late modernity for the construction of the responsible citizen
Abstract
The challenges of education, today more than in the past, invite pedagogical reflection to combine the needs of the person with the urgency of transforming in everyday situations from late modernity. Already Bauman, in fact, had highlighted the characteristics of the modern citizen, reframing and criticizing the very concept of citizenship. The relevant and complex theme that enquires is to analyse the increasingly strong relationship between social policies and educational policies with a view to a renewal of the welfare state which, in the light of the current economic crisis, has led to the emergence of new vulnerable social categories and greater inequalities. Pedagogy, again for that broad scope and for that idea of intrinsic planning, has worked on behalf of the person, emphasizing some of the essential elements of the same, such as the concept of dignity and that of identity: the first understanding as that ability to recognize others and themselves as citizens of the world; the second, while following the dignity in a significant continuum that has as glue the person, underlined the absolute singularity of the same, breaking down that concept of man's supremacy over its like. This paper aims to reflect on the concept of citizenship today, moving from the reinterpretation of Dewey and the meanings of democracy and education, declining them through a modern idea of social citizenship. The concept, introduced by Marshall, will be central to the treatment and will put itself in a new pedagogical perspective of the construction of the responsible citizen.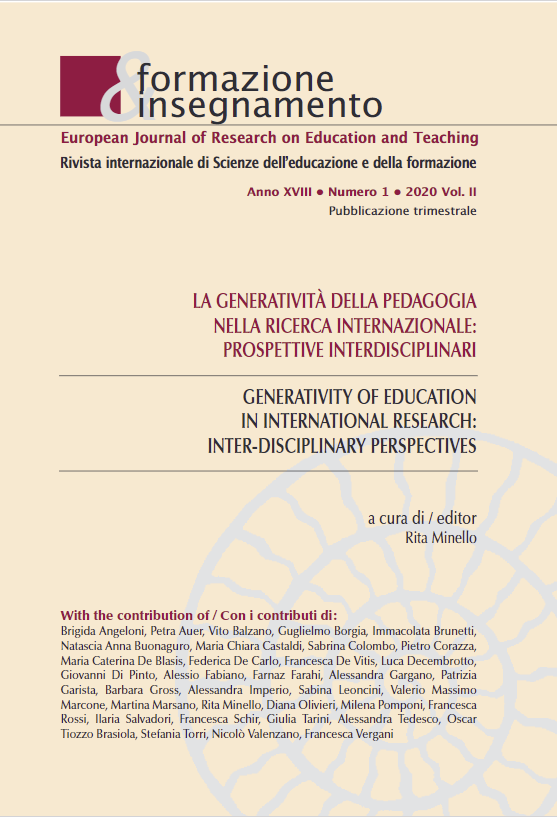 Downloads
How to Cite
Balzano, V. (2020). Educate to social citizenship. New possible paths of pedagogical research in the late modernity for the construction of the responsible citizen. Formazione & Insegnamento, 18(1 Tome II), 451–465. https://doi.org/10.7346/-fei-XVIII-01-20_38
License
Copyright (c) 2020 Pensa MultiMedia
This work is licensed under a Creative Commons Attribution 4.0 International License.
Formazione & insegnamento is distributed under Attribution 4.0 International (CC BY 4.0).
For further details, please refer to our Repository & Archiving Policy, as well as our Copyright & Licensing Terms.