Social skills deficit, motivation, cooperative learning: new scenarios for teaching practices. Analysis and reflections on a research project
Abstract
The present study aims to investigate the positive effects of cooperative learning on the learning and implementation of positive interactive behaviors and the most self-determined levels of study motivation in students with ADHD. Twelve students with ADHD diagnosis included in 6 different classes participated in the research. Some classes have been assigned to the condition of cooperative learning (group CL) others to the condition of direct education (control group). The Academic Self-Regulation Questionnaire, a learning questionnaire and classroom observation were used for the detection of the interaction behaviors implemented during the teaching activities. The results of the research have highlighted the importance of setting up and designing motivating and efficient educational activities in terms not only of achieving cultural objectives but rather of implementing adequate levels of study motivation and functional behaviors to be in relationship with the others. The results of the research confirm the greater effectiveness of cooperative learning, associated with educational software, compared to the traditional method used in the control group.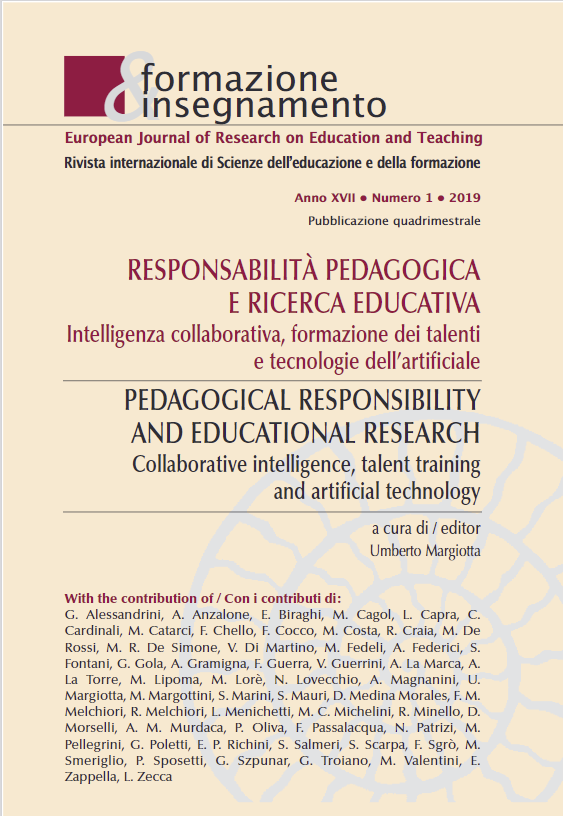 Downloads
How to Cite
Murdaca, A. M., Oliva, P., & Martelli, R. (2019). Social skills deficit, motivation, cooperative learning: new scenarios for teaching practices. Analysis and reflections on a research project. Formazione & Insegnamento, 17(1), 391–402. https://doi.org/10.7346/-fei-XVII-01-19_31
License
Copyright (c) 2019 Pensa MultiMedia
This work is licensed under a Creative Commons Attribution 4.0 International License.
Formazione & insegnamento is distributed under Attribution 4.0 International (CC BY 4.0).
For further details, please refer to our Repository & Archiving Policy, as well as our Copyright & Licensing Terms.