The ICF-CY in Physical Education: a tool for the evaluation of social and civic competences
Abstract
National and international literature and legislation recognize the lead in grole of Physical Education in learning social and civic competences. Such learning can be hindered or facilitated by environmental contextual factors. In the perspective of an inclusive school, it is essential to take this factors into consideration in the assessment procedures in order to design didactic and educational interventions aimed at removing barriers and implementing environmental facilitators. The ICF-CY model issuitable for this purpose, however it is rarely used in school
evaluation practices.
The present study highlights the possibility of using the ICF-CY in Physical Education in order to orientate the formative evaluation of social and civic competences through the detection of descriptive information of social behaviors and contextual environmental factors that impact them during motor activities and recreational-sports.
The research group identified significant correspondences between some ICF-CY categories and social and civic competences. On the basis of such correspondences, the group developed an operational tool for the evaluation of social and civic competences based on the ICFCY which can be directly used in the daily work of the Physical Education teacher in the first degree of the secondary school.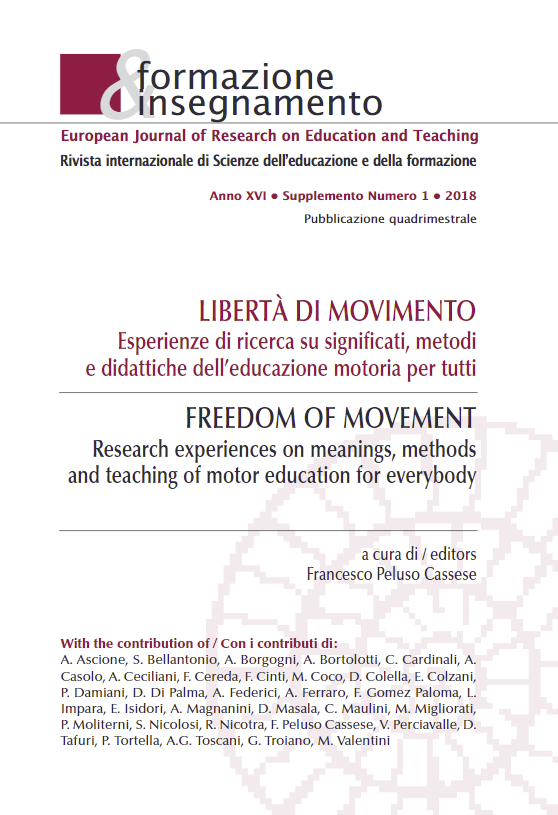 Downloads
How to Cite
Moliterni, P., Magnanini, A., & Ferraro, A. (2018). The ICF-CY in Physical Education: a tool for the evaluation of social and civic competences. Formazione & Insegnamento, 16(1 Suppl.), 83–94. Retrieved from https://ojs.pensamultimedia.it/index.php/siref/article/view/2764
License
Copyright (c) 2018 Pasquale Moliterni, Angela Magnanini, Antonio Ferraro
This work is licensed under a Creative Commons Attribution 4.0 International License.
Formazione & insegnamento is distributed under Attribution 4.0 International (CC BY 4.0).
For further details, please refer to our Repository & Archiving Policy, as well as our Copyright & Licensing Terms.