The possibility of teacher training in hermeneutical-existential teaching A profile reinforcement of the teachers in front of the youth fragility exposed to violent religious extremism
Abstract
In the socio-cultural context, in the West, the school educational agency is facing a complex issue
that concerns the impact on the young generation of ideological extremism, particularly in religious
matrix, resulting in violent dynamics. The delicate process of development (identity, relational, social
development) need a competent formative guide no longer attributed only to parental/family
function, but related to the professional contribution of the school education agency regarding values
and principles recognized in the constitutions and by international human rights declarations.
The teacher profile achieves a strenghtened educational task that accepts the real challenge and
goes beyond the already obsolete educational service for a balanced development of personal lives
and societies. In this sense, the hermeneutical-existential educational-teaching model, born in reference
to the teaching of religion in Italy with the contribution of Prof. Zelindo Trenti (Salesian Pontifical
University - Rome), could bring a significant contribution to the initial and in-service teachers
that are most prepared for the teaching challenges of the 21st century).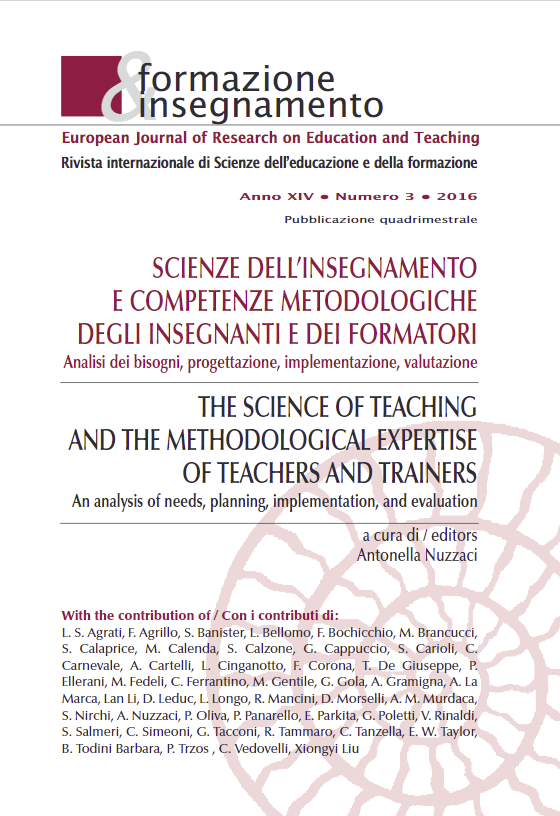 Downloads
How to Cite
Carnevale, C. (2017). The possibility of teacher training in hermeneutical-existential teaching A profile reinforcement of the teachers in front of the youth fragility exposed to violent religious extremism. Formazione & Insegnamento, 14(3), 421–433. Retrieved from https://ojs.pensamultimedia.it/index.php/siref/article/view/2067