Reflection on tutors' teaching practices in Primary Education workshops
Abstract
The paper presents an exploratory qualitative study design focusing on the organization of Primary Education workshops at the University of Palermo; in particular, tutor coordinators and tutor organizers of the training, along with the teachers, have been observed in their reflection attitude on their actions during specific practice activities. The intent was to initiate a reflection on what is really needed to run a workshop as well as on the skills teachers are supposed to have to be effective in their professional acting.
We have chosen to use the university workshops as a pedagogical space where experimenting alternative solutions that may open the way for integration between theory and practice; a place of conjugation between teachers and researchers that requires reflection on the purposes of education and knowledge of study disciplines.
The research involved the workshop tutors and teachers working in the Degree Course of Primary Education, in the academic year 2015/2016.
The instrument used for the exploratory study has been the focus group which favours indepth  analysis and allowed us collect a multiplicity of points of view on the subject of the investigation in a limited time of three work sessions: initial, ongoing and final.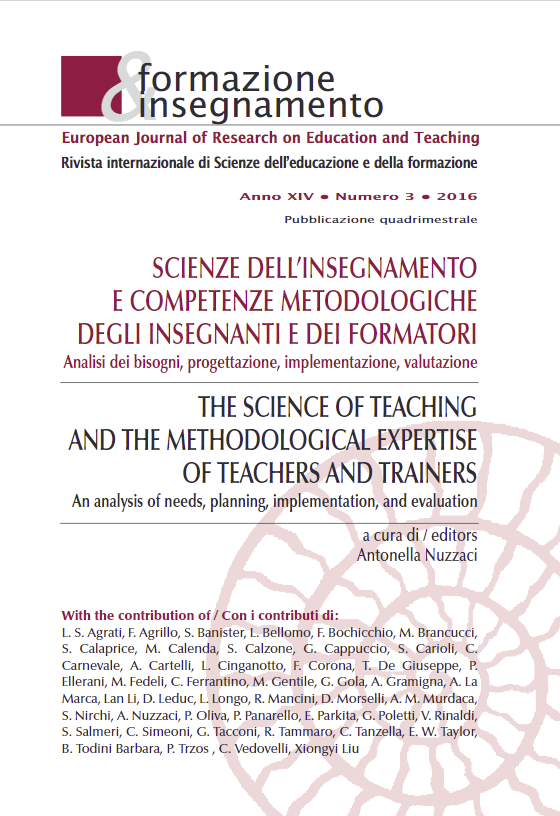 Downloads
How to Cite
Cappuccio, G. (2017). Reflection on tutors' teaching practices in Primary Education workshops. Formazione & Insegnamento, 14(3), 409–420. Retrieved from https://ojs.pensamultimedia.it/index.php/siref/article/view/2066