Beyond development. Learning cultures and socio-cultural transformation
Abstract
The introduction to the Special Issue "Learning cultures: A question of Development or of Transformation?" attempts to focus the aim of the issue, which is to face, accordingly with the debate already opened in the field of educational research, the question of the configuration assumed by the pedagogical device (its practices, its characteristics, its topics). This aim is proposed in the context of the multiple spaces generated by the Learning Society.
Specifically, the authors attempt to bring to the fore elements that
support reflection, beyond the ongoing deconstruction of pedagogical devices of modernity, and consequently, beyond its adoption as instrument of development, as phenomenon characterized by a linear transition towards the future.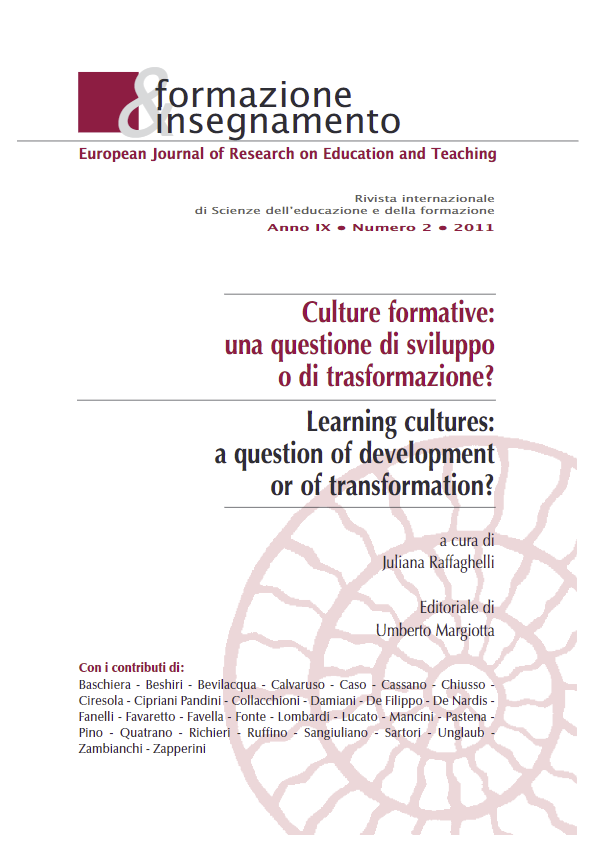 Downloads
How to Cite
Raffaghelli, J. (2014). Beyond development. Learning cultures and socio-cultural transformation. Formazione & Insegnamento, 9(2), 11–22. Retrieved from https://ojs.pensamultimedia.it/index.php/siref/article/view/1040