Learning Design as the base for adult educators' professionalism in the field of intergenerational learning
Abstract
The educational interventions dealing with the ill-defined educational problems frequently found in the field of adults' education require high professionalism. Intergenerational Learning,
a trend of growing importance for lifelong learning, is a case that illustrates particularly well this situation. Emerging strategies and technologies like Learning Design could support educators'
professionalism, aiming to work in a more effective way. In this article, the following research question was explored: Can the process of design for learning, intended as forward oriented
and creative process, support the achievement of adult educators' professionalism? The research consisted on a case study based on an European training programme, the "ALICE (Adults'
Learning for Intergenerational Creative Experiences) training of trainers". The programme adopted several means, from more traditional residential and online training activities, to the
deployment of an experimental idea based on the ALICE educational framework, the ALPP (Adult Learning Pilot Programme). Learning Design was introduced as concept entailing a set of
tools along the whole process of implementation of the ALPP. The phases of this creative process (contextualizing, planning, implementing, evaluating and sharing) were analyzed
through a holistic and mostly interpretivist (yet mixed methods) approach. As a result, the connections between learning design as forward oriented process and the adult educators' professionalism
were observed, documented and discussed.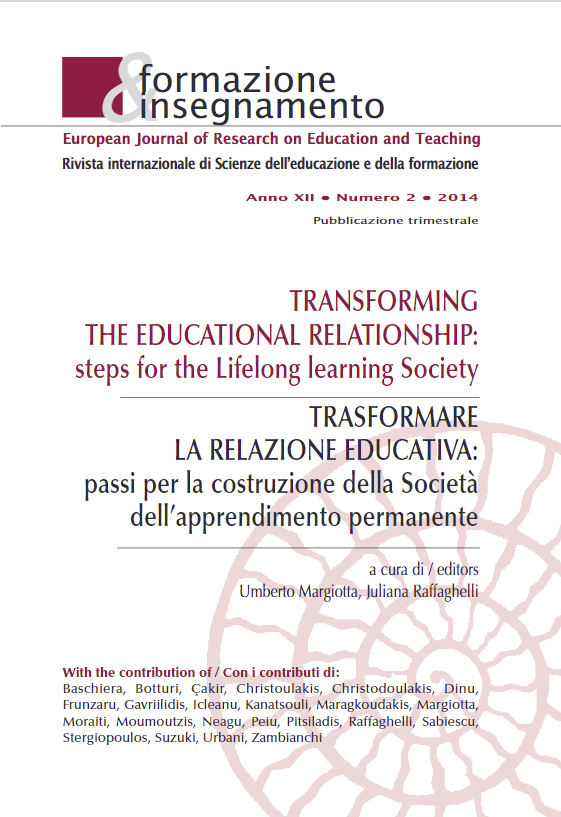 Downloads
How to Cite
Raffaghelli, J. (2014). Learning Design as the base for adult educators' professionalism in the field of intergenerational learning. Formazione & Insegnamento, 12(2), 275–310. Retrieved from https://ojs.pensamultimedia.it/index.php/siref/article/view/878