A Scholarship of Open Teaching and Learning: new basis for quality in higher education
Abstract
The recent research and policy context is drawing attention on the issue of openness in higher education. This emphasis is probably coming out from decades of debate on the power of open education to transform teaching and learning aligning the educational
process with the needs of the knowledge society. However, the concept of openness has been probably endowed with a power that should be reconsidered on the light of real practices and institutional projects. This is particularly the case of quality teaching and learning in higher education, an issue that has been often connected with openness in a rather superficial way. This article draws on existing literature on the area of Open Education as well as on the area of educational quality, aiming at better understand how "opening up education" could generate quality for teaching and learning, and how quality teaching and learning
could relate with openness in Higher Education.
In exploring these two conceptual universes, and building on Ghislandi and Raffaghelli (this Issue) the idea of SOTL is reconsidered, inviting the reader to think about a scholarship of
open teaching and learning (SO2TL). In order to illustrate concepts, a case study is presented.
It introduces a strategy to support an institutional process to opening up educational practices, which takes as key issue staff development to reflect on the idea of SO2TL. The conclusions aim at rethink future practice and research on the issue, in an attempt to give not only a concrete answer to the question "Is a scholarship of open teaching and learning connected to quality in higher education"?, but also, to put the basis for experiences that
do support a positive answer.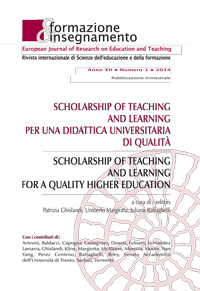 Downloads
How to Cite
Raffaghelli, J. (2014). A Scholarship of Open Teaching and Learning: new basis for quality in higher education. Formazione & Insegnamento, 12(1), 211–244. Retrieved from https://ojs.pensamultimedia.it/index.php/siref/article/view/380