Open Learning: The Future Educational Principle
Abstract
This issue aims to analyze educational models that characterize the category of intergenerational learning that is dubbed open learning, within the arch of the current century. Open Learning between generations is indeed a crucial topic that cuts across institutions and high education practices, and is well placed within broader reflections upon knowledge and the human activity we call 'education'. Furthermore, such crucial topic activates fundamental dichotomies among current pedagogical research: presence/virtuality, object/community, formal/informal learning. And yet, paradoxically, just when it is about to become all-encompassing, this semantic construct tends to dissolve itself in educational models and communicational practices that it brought to life.
We know very well – and the essays published in this volume make it evident – that e-learning does not fully overlap with distance education tout court. Rather, it is learning supported by Internet technologies. E-learning is not a technological solution, but it is a new way to develop knowledge and learning opportunities. In fact, many now prefer to speak of open learning, and highlight the fact it is an 'open' style of learning, whose roles enjoy blurred limits; alternatively, they speak of ubiquitous learning, because of the way it takes down all spatial constraints usually connected with traditional learning approaches; finally, they talk of it as intergenerational learning because of the way it overcomes barriers determined by the different stages of life.
References
Downes, Stephen (2008). An Introduction to Connective Knowledge. In T. Hug (Ed.), Media, Knowledge & Education - Exploring new Spaces, Relations and Dynamics in Digital Media Ecologies. Innsbruck University Press. (Original manuscript: 2005). Retrieved November 30, 2012, from https://www.downes.ca/cgi-bin/page.cgi?post=33034
Hertzberger, H. (2008). Space and Learning. Rotterdam: Nai010.
Lemke, J. L. (1993). Education, Cyberspace, and Change. Electronic Journal on Virtual Culture, 1(1). Retrieved November 30, 2012, from https://eric.ed.gov/?id=ED356767
Moore, M. G., Shattuck, K., & Al-Harthi, A. (2005). Cultures meeting cultures in online distance education. Journal of e-learning and knowledge society, 1(2), 187–203. https://doi.org/10.20368/1971-8829/670
Morin, E. (2000).La testa ben fatta: Riforma dell'insegnamento e riforma del pensiero. Milano: Raffaello Cortina.
Ogawa, K. (1998). Impact of an interaction-oriented Japanese course on learners. Australian review of applied linguistics, 15(1), 123–138. https://doi.org/10.1075/aralss.15.08oga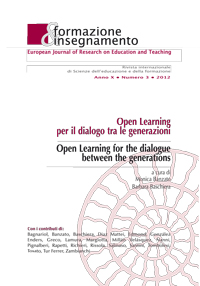 Downloads
How to Cite
Margiotta, U. (2012). Open Learning: The Future Educational Principle. Formazione & Insegnamento, 10(3), 7–10. https://doi.org/10.7346/-fei-X-03-12_01
License
Copyright (c) 2012 Umberto Margiotta
This work is licensed under a Creative Commons Attribution 4.0 International License.
Formazione & insegnamento is distributed under Attribution 4.0 International (CC BY 4.0).
For further details, please refer to our Repository & Archiving Policy, as well as our Copyright & Licensing Terms.