Critical pedagogy and its enemies
Abstract
Critical pedagogy contributed to reveal the clouded dimensions of education and educational institutions. Its critical approach is firstly obtained by acknowledging the historical and social nature of educational processes. Secondly, it fosters the need to consider the primary relevance of social and material conditions involved in the development of educational practices and reflective practices about education. Ultimately, said critical approach is obtained by taking on an alternative slant on the normative and regulating leanings of traditional pedagogy – so that it is possible to regard it as a field of knowledge that is engaged in a continuous research and definition of its own tasks. Hence, this essay starts by identifying the merits and limits of critical pedagogy, and then focuses on its most contemporary aspects that could be retrieved in order to dialectically face its current enemies.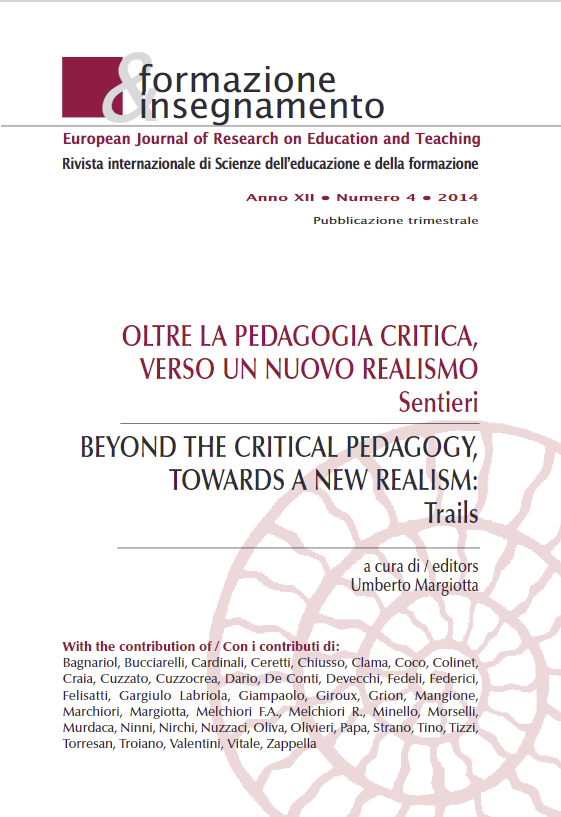 Downloads
How to Cite
Margiotta, U. (2014). Critical pedagogy and its enemies. Formazione & Insegnamento, 12(4), 13–38. Retrieved from https://ojs.pensamultimedia.it/index.php/siref/article/view/1609
License
Copyright (c) 2014 Umberto Margiotta
This work is licensed under a Creative Commons Attribution 4.0 International License.
Formazione & insegnamento is distributed under Attribution 4.0 International (CC BY 4.0).
For further details, please refer to our Repository & Archiving Policy, as well as our Copyright & Licensing Terms.