Education to Health, Adherence to Use of Therapies and to Scientific Recommendations
Keywords:
Salute, One Health, Approccio capacitante, Ecosistema educante
Abstract
The Health has been considered at the center of public interest during the international health pandemic and, because of this, the need to change its paradigm, meaning it not «only the absence of disease and a complete state of biopsychosocial well-being» but considering it in a broader relationship with animals, nature and the environment as part of a single whole. Thus a greater awareness of the interdependence between living beings and the possible repercussions on our and others' health emerges. The World Health Organization recommends scientific communication, education for awareness and the assumption of responsibility in terms of well-being and wellliving as elements of an enabling approach that bases its foundations on an integrated and interdisciplinary transformative ecosystem.
References
Bonaccorsi, G., Lorini, C. (2021) L'evoluzione della Health Literacy. Retrieved February 22, 2022, from https://www.saluteinternazionale.info/2021/03/evoluzione-health-literacy/
Brach, C., & Harris, L. M. (2021). Healthy People 2030 Health Literacy Definition Tells Organizations: Make Information and Services Easy to Find, Understand, and Use. Journal of general internal medicine, 36(4), 1084–1085. https://doi.org/10.1007/s11606-020-06384-y
Calabria, S., Piccinni, C., Recchia, G., Santoro, E., Grigolo, S., & Martini, N., (2022) Applicazioni della digital medicine ai PDTA: tassonomia, metodologia, impatto sul paziente e barriere da superare, Recenti Prog Med, 113, 105-113 https://www.recenti progressi.it/ -
archivio/3748/articoli/37314/
Capua, I. (2020) Circular Health. Empowering the One Health Revolution, Milano: Bocconi University Press.
Commissione Europea (2020) Comunicazione congiunta al Parlamento Europeo, al Consiglio Europeo, al Comitato Economico e Sociale Europeo e al Comitato delle Regioni, Contrastare la disinformazione sulla Covid-19 – Guardare ai fatti. https://eur-lex.europa.eu/legal-
content/IT/TXT/?uri=CELEX:52020JC0008
Contributing to One World, One Health – A Strategic Framework for Reducing Risk of Infectious Diseases at the Animal-Human-Ecosystem Interface. 14 Oct. 2008. Consultation Document produced by FAO, OiE, WHO, UN System Influenza Coordination, UNICEF,
THE WORLD BANK.
Convenzione ONU dei diritti delle persone con disabilità https://www.esteri.it/mae/resource/doc/2016/07/c_01_convenzione_onu_ita.pdf
d'Ivernois, J. F., & Gagnayre, R. (2009) Educare il paziente. Un approccio metodologico. New York: McGraw Hill.
Demetrio, D. (2001) Manuale di educazione degli adulti, Bari: Laterza.
Ferraresi, A., Gaiani, R., & Manfredini, M. (2004) Educazione terapeutica. Metodologia e applicazioni, Roma: Carocci.
Galeotti, G. (2020) Educazione ed innovazione sociale: l'apprendimento trasformativo nella formazione continua. Firenze: Firenze University Press.
Grigolo, S., Agresta, I., Mazzariol, S., & Van Doorne, D. (2021). Il paziente, la sanità digitale e le terapie digitali. Tendenze Nuove, S1, 159-176. https://doi.org/10.32032/TENDENZENS20210112.PDF
Haynes, R. B., Ackloo E., Sahota N., McDonald H. P., & Yao X. (2008). Interventions for enhancing medication adherence. Cochrane Database of Systematic Reviews, 2, CD000011. https://doi.org/10.1002/14651858.CD000011.pub3.
Legge 22 dicembre 2021 n. 227 Delega al Governo in materia di disabilità https://www.gazzettaufficiale.it/atto/serie_generale/caricaDettaglioAtto/originario?atto.dataPubblicazioneGazzetta=2021-12-30&atto.codiceRedazionale=21G00254&elenco30giorni=true
Martini, N. (2020) L'engagement dei cittadini nella sanità. Recenti Prog Med, 111(11), 673-674. https://doi.org/10.1701/3474.34571
Mortari, L. (2006), La pratica dell'aver cura, Milano: Mondadori.
Nutbeam, D. (1998) Health Promotion Glossary Health Promotion International, 3(4): 349–364. https://doi.org/10.1093/heapro/13.4.349
Nelson, C., Lurie, N., Wasserman, J., & Zakowski, S. (2007). Conceptualizing and defining public health emergency preparedness. American journal of public health, 97, S9–S11. https://doi.org/10.2105/AJPH.2007.114496
Presidenza del Consiglio dei Ministri (2020). Comitato Nazionale per la Bioetica, COVID-19: salute pubblica, libertà individuale, solidarietà sociale, 28 maggio 2020.
Saiani, L., & Brugnolli, A. (2013) Trattato di cure infermieristiche Napoli: Idelson-Gnocchi.
Tamburrini, V. (2020) La limitazione dei diritti costituzionali in tempo di pandemia: alcune osservazioni sul carattere fondamentale dell'interesse della collettività alla salute. Diritto & Salute 2020(2), 33-39.
World Health Organisation. (2022). New online course to fight the infodemic. https://www.who.int/health-topics/infodemic#tab=tab_1 ultima consultazione 14.02.2022
World Health Organisation – Regional Office for Europe. (2019). Action plan to improve public health preparedness and response in the WHO European Region 2018–2023. https://www.euro.who.int/__data/assets/pdf_file/0009/393705/Action-Plan_EN_WHO_web_2.pdf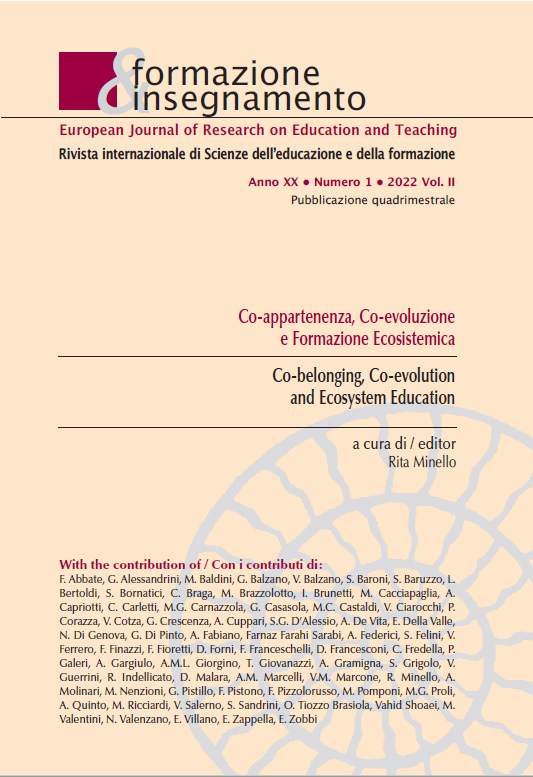 Downloads
How to Cite
Grigolo, S. (2022). Education to Health, Adherence to Use of Therapies and to Scientific Recommendations. Formazione & Insegnamento, 20(1 Tome II), 910–919. https://doi.org/10.7346/-fei-XX-01-22_81
License
Copyright (c) 2022 Sabrina Grigolo
This work is licensed under a Creative Commons Attribution 4.0 International License.
Formazione & insegnamento is distributed under Attribution 4.0 International (CC BY 4.0).
For further details, please refer to our Repository & Archiving Policy, as well as our Copyright & Licensing Terms.