Solidarity Between Generations: Personal and Community Empowerment
Keywords:
Intergenerational spaces, Reflective urban planning, Experiential learning, Social sustainability, Fraternity
Abstract
During the first 2021 months I carried out a survey in collaboration with university students as an ending for the teaching activity of the Pedagogy course. Starting from such survey, this contribution presents reflections about intergenerational co-housing. The article centers on the need to identify and prepare educational-training places and paths as star systems part of a sustainable ecosystem, capable of building both individual and collective transformative agencies. The intergenerational co-housing constitutes a laboratory of change as well as proof of a future in which: education in commitment and responsibility, the centrality of relationships understood as a connecting structure, the need to co-construct the everyday in opening up to beliefs , to the values and orientations for the life of the other, all these factors trigger transformative and profound processes that allow full development of both the individual and the community.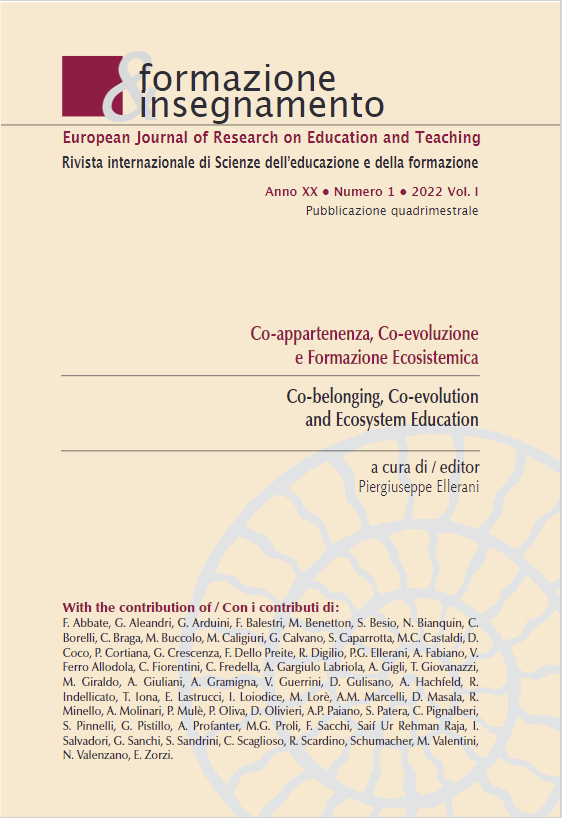 Downloads
How to Cite
Scaglioso, C. . (2022). Solidarity Between Generations: Personal and Community Empowerment. Formazione & Insegnamento, 20(1 Tome I), 079–089. https://doi.org/10.7346/-fei-XX-01-22_08
License
Copyright (c) 2022 Carolina Scaglioso
This work is licensed under a Creative Commons Attribution 4.0 International License.
Formazione & insegnamento is distributed under Attribution 4.0 International (CC BY 4.0).
For further details, please refer to our Repository & Archiving Policy, as well as our Copyright & Licensing Terms.