Il rigore e l'immaginazione. La programmazione di classe in Cooperative Learning
Abstract
La programmazione di classe, da sterile operazione burocratica, può divenire una matrice di comportamenti, di forme di sapere, di modi di essere dei soggetti coinvolti ed eticamente orientati, e così generare percorsi originali e unici, strettamente legati ai contesti e al tessuto di relazioni.
Essa, ancorata al paradigma ecologico, può attuarsi attraverso il Cooperative Learning come naturale modo d'apprendere, direttamente conseguente dalla scelta della prospettiva della complessità e di una visione olistica dell'esperienza umana.
Questa proposta di ricerca, pur inserendosi pienamente entro i confini delle Indicazioni Nazionali per i licei, pone al centro una chiara scelta etica, quella del paradigma ecologico come si sviluppa nel pensiero di G. Bateson, di E. Morin, e nella filosofia dell'ambiente.
Oltre al modello ricorsivo della programmazione (Nicholls, 1975; Pellerey, 1983), si farà riferimento all'Instructional Design nella versione costruttivista (Jonassen, 1997), e allo strutturalismo didattico (Bruner, 1982).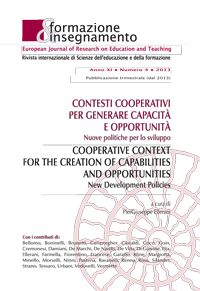 Downloads
How to Cite
Ninni, I. (2013). Il rigore e l'immaginazione. La programmazione di classe in Cooperative Learning. Formazione & Insegnamento, 11(4), 167–174. Retrieved from https://ojs.pensamultimedia.it/index.php/siref/article/view/400
License
Copyright (c) 2013 Ida Ninni
This work is licensed under a Creative Commons Attribution 4.0 International License.
Formazione & insegnamento is distributed under Attribution 4.0 International (CC BY 4.0).
For further details, please refer to our Repository & Archiving Policy, as well as our Copyright & Licensing Terms.