The Atelier in Newly Qualified Teacher Training Curriculum
Abstract
The trend started in cooperation with Professional Ateliers to include laboratory
activities in the training curricula for teachers finds a recall in the
Neoassunti training model. They are "adult" workshops proposing a training
model based on problems and not on exercises, where the link between
theories and practices is strengthened through relevant examples of learning
situations. In order to have an insight into the effectiveness of the laboratory
included in the curriculum of the training course dedicated to the Induction
period and to identify the aspects to be improved, we conducted a
reseach organized in a massive collection phase (involving 84,000 teachers
and 117 principals) and in a case study in the Campania Region (involving 83
laboratory experts, 7 principals and the responsible of the USR. The research,
adopting both quantitative and qualitative analysis tools, identifies
reorganization elements for a professional lab, some of which are already
contained in the most recent ministerial circulars, thus contributing to a evidence- based policy process.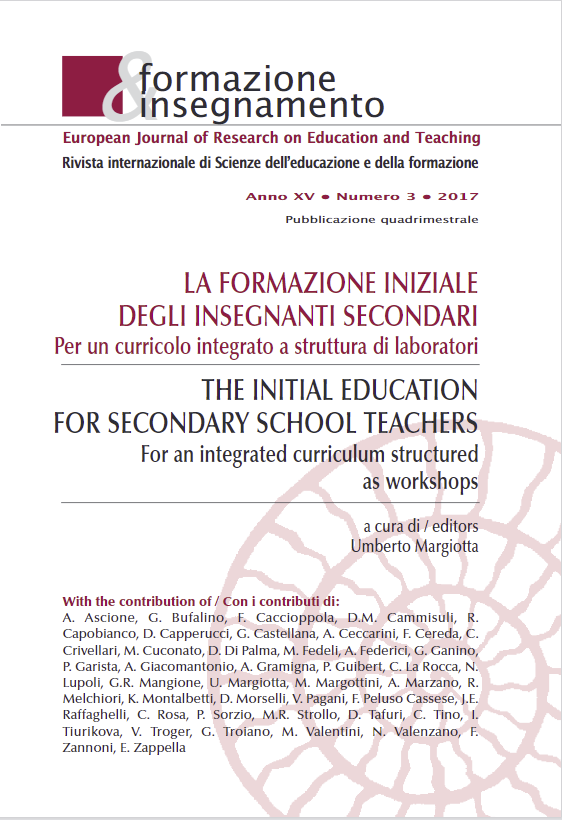 Downloads
How to Cite
Mangione, G. R. (2017). The Atelier in Newly Qualified Teacher Training Curriculum. Formazione & Insegnamento, 15(3), 71–92. Retrieved from https://ojs.pensamultimedia.it/index.php/siref/article/view/2626
License
Copyright (c) 2017 Giuseppina Rita Mangione
This work is licensed under a Creative Commons Attribution 4.0 International License.
Formazione & insegnamento is distributed under Attribution 4.0 International (CC BY 4.0).
For further details, please refer to our Repository & Archiving Policy, as well as our Copyright & Licensing Terms.