Professors, Digital Technologies and Teaching: an Experience of Training Management for First Employed Teachers
Abstract
The paper starts by discussing the evolution of the theories on teaching
planning and on the connection between teaching and digital technologies
in contemporary school working and university teaching. Soon after, this
activity is analyzed within a special teaching context, involving graduated
people interested in becoming teachers in Italian Secondary Schools
(named TFA). The investigation, which is essentially qualitative, is carried
out by means of a questionnaire proposed to university professors charged
of the education of the teachers, with a special attention to analogies and
differences between those who are involved in pedagogical courses and
those who are working on disciplinary matters.
Numerical data collected from the answers to the questionnaires, with the
help of grounded theory procedures and instruments, and without former
proposals of interpretive hypotheses to be verified, lead to ideas which are
reported and discussed in the conclusion.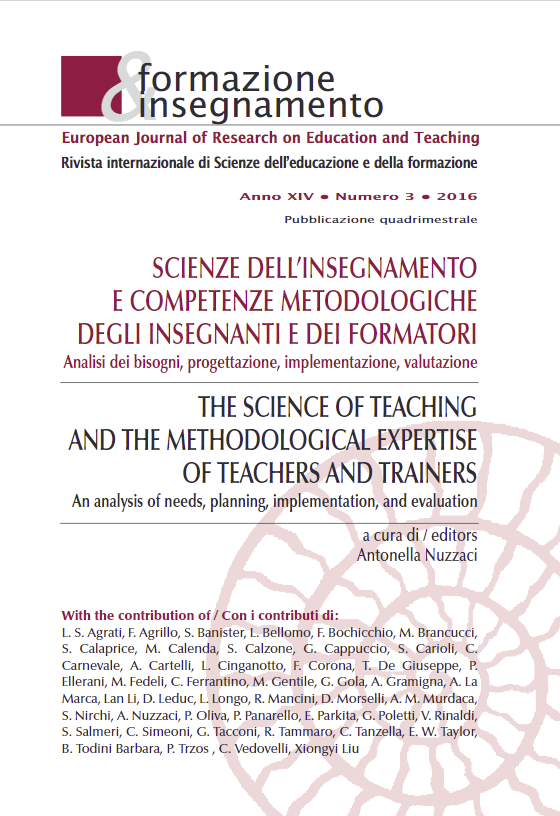 Downloads
How to Cite
Cartelli, A. (2017). Professors, Digital Technologies and Teaching: an Experience of Training Management for First Employed Teachers. Formazione & Insegnamento, 14(3), 207–230. Retrieved from https://ojs.pensamultimedia.it/index.php/siref/article/view/2054