Which assessment do university students experience? First results from a field research
Keywords:
Assessment, Research, Learning, Interview, Student Voice
Abstract
In the scientific debate assessment is considered a co-extensive dimension to the learning process and a driver to promote it; at the same time, teaching how to assess and self-assess is an expected result for the university training in order to assure students lifelong learning. In this conceptual framework the empirical research aims to describe students' assessment experience paying attention to the implications due to pandemic. Thanks to students' voice perspective they are considered as competent actors able to suggest ideas for outlining improvement paths. The evidence collected on the field gives a lights and shadows portrait; overall, we have to work both on representations as well as practices: to make assessment for learning practices systematic, sustainable and recognizable by the students it's necessary a joint effort of the different actors taking into account all aspects involved (scientific, didactic, organizational).
References
Allan, S. (2020). Migration and transformation: a sociomaterial analysis of practitioners' experiences with online exams. Research in Learning Technology, 28, 2279. DOI: 10.25304/rlt.v28.2279.
Bellomo, L. (2013). Il processo di valutazione nel contesto scolastico: uno studio esplorativo sulle credenze e le pratiche didattico-valutative in un gruppo di insegnanti di scuola primaria. FORMAZIONE & INSEGNAMENTO. Rivista internazionale di Scienze dell'educazione e della formazione, 11(1), 167-174.
Black, P. (2006). Assessment for learning: where is it now? Where is it going? In C. Rust (Ed.), Improving Student Learning through Assessment (pp. 9-20). Oxford: Centre for Staff and Learning Development.
Blair, E., & Valdez Noel, K. (2014). Improving higher education practice through student evaluation systems: is the student voice being heard?. Assessment & Evaluation in Higher Education, 39(7), 879-894.
Boud, D. (2006). Sustainable Assessment: Rethinking Assessment for the Learning Society. Assessment & Evaluation in Higher Education, 22 (2), 151-167.
Boud, D., & Associates (2010). Assessment 2020: Seven propositions for assessment reform in higher education. Sydney: Australian Learning and Teaching Council.
Boud, D., & Falchikov, N. (2007). Rethinking Assessment in Higher Education. Abingond: Routledge.
Brookhart, S.S., & Bronowicz, D.L. (2003). I don't like writing. It makes my fingers hurt: Students talk about their classroom assessments. Assessment in Education, 10, 302-315.
Brown, G.T.L. (2004). Teachers' conceptions of assessment: implications for policy and professional development. Assessment in Education, 11, 221-242.
Brown, G.T.L., Hirschfeld, G.H.F. (2008). Students' conceptions of assessment: links to outcomes. Assessment in Education, 15, 63-74.
Brown, G.T.L., Irving, S.E., & Peterson, E.R. (2008). Beliefs that make a difference: students' conceptions of assessment and academic performance. Assessment in Education, 3-17.
Brown, J.S., Collins, A., & Duguid, P. (1989). Situated cognition and culture of learning. Educational researcher, 18, 32-42.
Brown, S. (2005). Assessment for Learning. Learning and Teaching in Higher Education, 1, 81-89.
Coggi, C. (2005). Valutare gli studenti: problemi teorici e prassi nella facoltà. In: C Coggi (Ed), Per migliorare la didattica universitaria (pp. 205-238). Lecce: Pensa Multi- Media.
Cowie, B. (2005). Pupil commentary on assessment for learning. The Curriculum journal, 16 (2), 137-151.
Earl, A.M. (2003). Assessment as Learning: Using Classroom Assessment to Maximize Student Learning. Thousand Oaks, CA: Corwin Press.
Gibbs, G. (2010). Using assessment to support student learning. Leeds: Leeds Met Press.
Gibbs, G., & Simpson, C. (2005). Conditions under which assessment supports students' learning. Learning and teaching in higher education, 1, 3-31.
Gijbels, D., & Dochy, F. (2006). Students' assessment preferences and approaches to learning: can formative assessment make a difference. Educational Studies, 32, 399-409.
Grion, V., Serbati, A., Sambell, K., & Brown, S. (2020). Valutazione e feedback in DAD in tempo di emergenza: strategie d'azione nei contesti universitari (pp. 75-90). In Limone P., Toto G, & Sansone N, a cura di, Didattica universitaria a distanza: tra emergenza e futuro. Bari: Progedit.
Grion, V., & Cook-Sather, A. (Eds). (2013). Student voice. Prospettive internazionali e pratiche emergenti in Italia. Milano: Guerini.
Lizzio, A., Wilson, K., & Simons, R. (2002). University students' perceptions of the learning environment and academic outcomes: implications for theory and practice. Studies in Higher education, 27(1), 27-52.
McDowell, L., Sambell, K., & Davison, G. (2009). Assessment for learning: a brief history and review of terminology. In C. Rust (Ed.), Improving Student Learning Through the Curriculum (pp. 56-64). Oxford, England: Oxford Centre for Staff and Learning Development.
Montalbetti, K. (2020). Apprendere la competenza valutativa a scuola: un asset strategico per la vita, Giornale Italiano della Ricerca Educativa, (24), 54-66.
Montalbetti, K. (2021). Innovare la valutazione all'università: si può, anzi si deve!. Education Sciences & Society, 12(2), 359-379.
Montalbetti, K., & Orizio, E. (2022). Innovare la didattica universitaria fra vincoli e opportunità. Un'esperienza di peer feedback con i futuri insegnanti. Qwerty. Rivista interdisciplinare di tecnologia, cultura e formazione, 17, 1, 45-64. DOI: 10.30557/QW000050
Pastore, S. (2012). Silent assessment? Cosa pensano della valutazione gli studenti universitari. Italian Journal of Educational Research, 62-73.
Perla, L., Felisatti, E., Grion, V., Agrati, L.S., Gallelli, R., Vinci, V., Amati, I., & Bonelli, R. (2020). Oltre l'era Covid-19: dall'emergenza alle prospettive di sviluppo professionale. Excellence and Innovation in Learning and Teaching, 5(2), 18-37. DOI: 10.3280/exioa2-2020oa10802.
Romainville, M. (2004). Esquisse d'une didactique universitaire. Revue francophone de gestion, 5(24), 1-15.
Rust, C. (2002). The impact of assessment on student learning: how can the research literature practically help to inform the development of departmental assessment strategies and learner-centred assessment practices?. Active learning in higher education, 3(2), 145-158.
Seale, J. (2010). Doing student voice work in higher education: an exploration of the value of participatory methods. British Educational Research Journal, 36(6), 995-1015.
Semeraro, R. (2011). La didattica universitaria e la sua valutazione: concezioni e pratiche dei docenti. In L. Galliani (Ed.), Il docente universitario. Una professione tra ricerca, didattica e governance degli Atenei. (Tomo I, pp. 119-136). Lecce-Brescia: Pensa MultiMedia.
Tashakkori, A., & Teddlie, C. (2010). Sage handbook of mixed methods in social and behavioral research. USA: SAGE publications.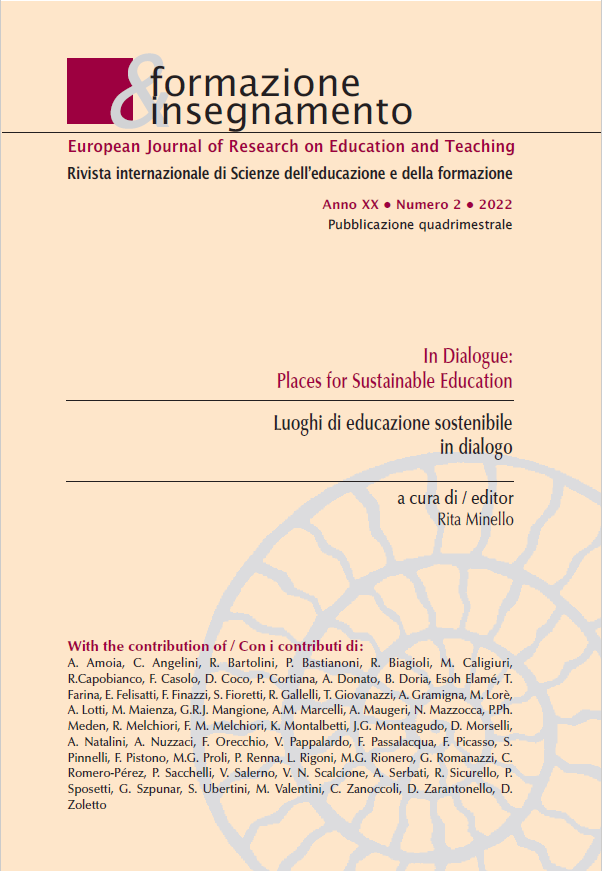 Downloads
License
Copyright (c) 2022 Katia Montalbetti
This work is licensed under a Creative Commons Attribution 4.0 International License.
Authors that publish in Formazione & insegnamento accept the following conditions:
Authors keep their copy rights for their work and give the journal only the right of first publication and distribution of it. Concurrently, the work is licensed under Attribution 4.0 International (CC BY 4.0), which allows others to share their work porovided they attribute it to their original author and acknowledge its first appearance in this journal.
Authors might engage in other licensing agreements, provided such agreements are 

non exclusive

regarding the distribution of the published work (e.g., place a copy in a physical institutional repository, or publish it in a book). In this case, the authors must acknowledge in the new version of the work that it was first published on this journal.
Authors may distribute their accepted manuscripts (pre-print) online (e.g., online repositories, personal website) during the publication process. This is allowed because it is the source of informed exchange with peers and increases the value of the published work. Please be aware that the distribution and dissemination to peer and through archives does not constitute a "publication" in a volume belonging to a series (ISSN): Formazione & insegnamento publishes previously unpublished works.