Biodanza SRT: Educational challenges in prison
Keywords:
Biodanza SRT, Embodiment, Emotional Education, Prison, Wellness
Abstract
The contribution highlights how the educational intervention of Biodanza SRT, a pedagogy with body mediation oriented to the education of wellbeing, through an Embodied Training aims to reinforce and develop life skills in prisoners: skills, competences and personal strategies (protective factors) useful to consolidate a mode of positive coping thanks to which it is possible to effectively face the demands and trials of daily life and laying the foundations for the construction of a future life project. Emotional education, as an indispensable complement to cognitive and metacognitive development, facilitates the development of personal empowerment, the acquisition of Best Practices useful for encouraging inmates the development of possible protective factors and the acquisition of tools and personal resources for deal with stressful events and prevent or combat unease, risky behaviors and functional deviations for the reintegration into society of ex-prisoners, once they have left the criminal path. Pursuing explicit attention through an educational intentionality capable of investing in educational practices capable of generating tangible changes (especially in the long term), developing the enhancement of talents and personal and social success, concretely helps to stimulate in prisoners that sense of responsibility facilitating the "reprogramming" of a life path again.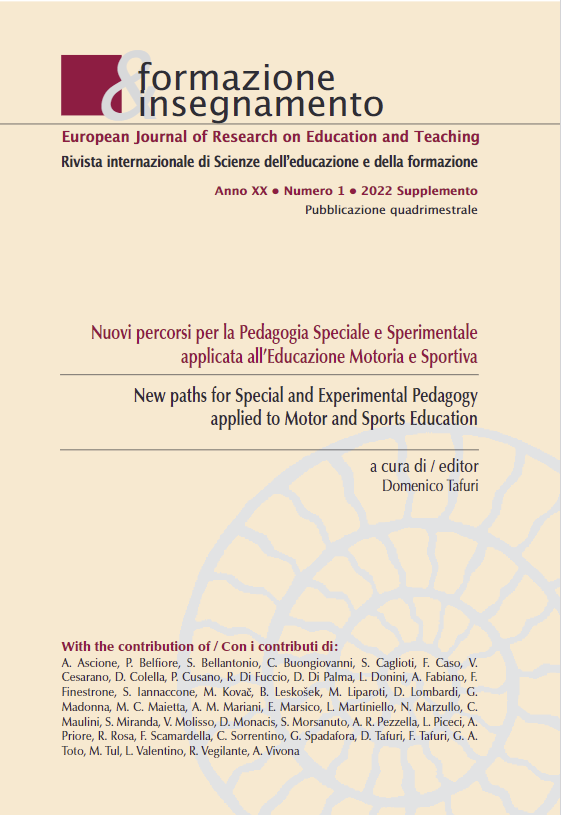 Downloads
How to Cite
Rosa, R., & Maietta, M. C. (2022). Biodanza SRT: Educational challenges in prison. Formazione & Insegnamento, 20(1 Suppl.), 175–188. https://doi.org/10.7346/-feis-XX-01-22_15
License
Copyright (c) 2022 Pensa MultiMedia
This work is licensed under a Creative Commons Attribution 4.0 International License.
Formazione & insegnamento is distributed under Attribution 4.0 International (CC BY 4.0).
For further details, please refer to our Repository & Archiving Policy, as well as our Copyright & Licensing Terms.