La lettura online come nuova dimensione della literacy
Abstract
L'essenza della lettura sta cambiando, resa più complessa dal saper leggere
ipertesti online. Si tratta di un modo diverso di elaborare i contenuti, richiesto
dalle tipologie testuali presenti in rete, che ha acquisito rilevanza con l'esplosione informativa su internet e con il suo riconoscimento come media di comunicazione, intrattenimento, informazione. Ma se l'immensa disponibilità informativa ha, come possibile conseguenza, quella di far lievitare la necessità di leggere, essa ha in sé anche la potenzialità di distogliere dall'impegno di una
lettura concentrata, poiché la comprensione del contenuto online è esito di un
rilevante investimento nella ricerca, valutazione, costruzione e ricomposizione
del testo, e di un ventaglio di altre competenze che non possono essere date
per scontate. L'insegnamento di queste nuove skill pone, anzi, seri dubbi in termini di opportunità e di modalità di intervento, risollevando la riflessione sul
delicato ruolo di chi deve alfabetizzare alla luce dei nuovi scenari socio-culturali.
Se e come può la scuola agire su un ambito che, ad oggi, è lasciato all'informale? Alcuni studi suggeriscono l'opportunità di orientarsi verso tecniche di promozione dei processi di "autoregolazione", essenziali nella comprensione
degli ipertesti online (e non solo). Sono ancora poche, però, le ricerche sulle  strategie di comprensione dei testi digitali non lineari usati e non possediamo sufficienti dati empirici sull'efficacia di tali tecniche di istruzione.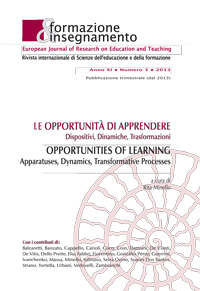 Downloads
How to Cite
Carioli, S. (2013). La lettura online come nuova dimensione della literacy. Formazione & Insegnamento, 11(3), 189–198. Retrieved from https://ojs.pensamultimedia.it/index.php/siref/article/view/435
License
Copyright (c) 2013 Stefania Carioli
This work is licensed under a Creative Commons Attribution 4.0 International License.
Formazione & insegnamento is distributed under Attribution 4.0 International (CC BY 4.0).
For further details, please refer to our Repository & Archiving Policy, as well as our Copyright & Licensing Terms.