The Other Side of the Coin. The Agonism through the Sport Pedagogy Perspective
Abstract
Common sense gives to agonism an exclusive belonging to the sport. The reason
why is directly connected with physical education, which has proposed an essential technical vision linked to the quality of the sport activities practiced by individuals.
Biomedical area has proposed such a perspective too, where the difference
between competitive and non-competitive sportis considered essential to indicate to individuals which and how physical activity or sport practice, because non-competitive activities do not provide for sport achievements of a certain level. From the sport pedagogy point of view, we wonder if it is still correct to speak about agonism only in those areas aimed at achieving high levels of sport performance. A cultural perspective about agonism rather suggest that it has to be understoodas a behavior where individuals needs to get esteem and social consensus, not only into sport. From this perspective, the paper propose a renewed way of thinking the agonism in sport contexts, in the light of the relationship among sport, education and values. It is through this kind of re-signification process that the agonism become a condition of educability at the base of sport for all.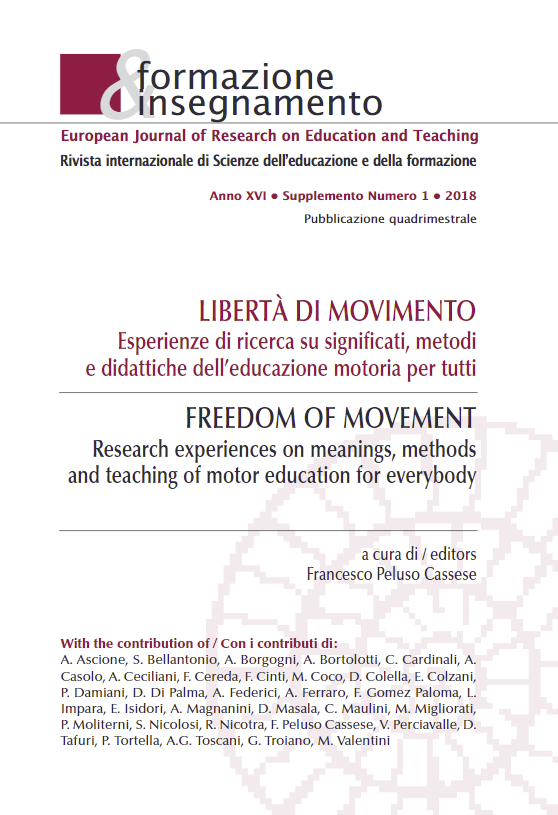 Downloads
How to Cite
Bellantonio, S. (2018). The Other Side of the Coin. The Agonism through the Sport Pedagogy Perspective. Formazione & Insegnamento, 16(1 Suppl.), 73–82. Retrieved from https://ojs.pensamultimedia.it/index.php/siref/article/view/2763
License
Copyright (c) 2018 Sergio Bellantonio
This work is licensed under a Creative Commons Attribution 4.0 International License.
Formazione & insegnamento is distributed under Attribution 4.0 International (CC BY 4.0).
For further details, please refer to our Repository & Archiving Policy, as well as our Copyright & Licensing Terms.