The big picture: Meeting educational challenges in an increasing multicultural world
Abstract
From 80's, research on intercultural education has discussed its potential to introduce dialogue among civilizations, in order to reduce conflict, and preventing the perception of otherness as a menace. Nowadays, that position has evolved, leaving behind the idea of cultures classification towards a new point of view, – the one is introduced through the PERMIT case –. Namely, the position of culture as a dynamic entity, continuously evolving, and created on the bases of dialogue and interaction; this is the notion of culture as a forum (Bruner, 1988, 2003, p. 152), which in time introduces a conception of teaching and learning practices as main activities to rethink and rebuild cultures (Margiotta, 2007). In
fact, the attempt of current research in a number of educational contexts is entirely devoted to show how cultural values, opinions and attitudes (representing cultural identity) can be discovered and re-negotiated through new pedagogic practices (Minello, 2008). This evolving concept is present in several focal research fields of intercultural education, that are summarily presented in this chapter: curriculum research, teaching methods, new learning environments, the achievement of intercultural competence, and
teachers' professionalism. The attempt here is, while introducing these topics, to depict the foundations and background that impulsed PERMIT's project experimentation.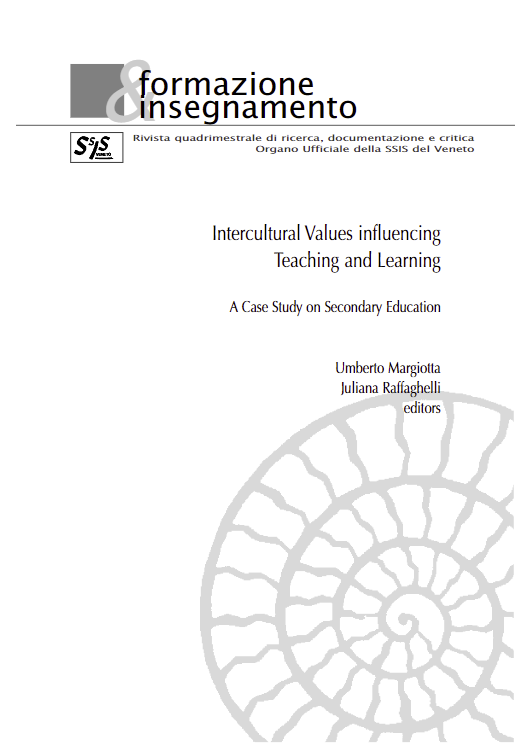 Downloads
How to Cite
Raffaghelli, J. (2015). The big picture: Meeting educational challenges in an increasing multicultural world. Formazione & Insegnamento, 8(3), 15–50. Retrieved from https://ojs.pensamultimedia.it/index.php/siref/article/view/1346