Authentic tasks or reality tests?
Abstract
Traditional evaluation practices have the limit of not being able to focus on knowledge reproduction (what is known is identified only with what has been taught); therefore, measured performance always results inconsistent with real competences. Instead, authentic evaluation does not only show "what it is known" but also "what it could be done with the knowledge one has acquired"; hence, such evaluation has a foundational role with regard
to the educational profile. Indeed, it is deeply rooted in a constructivist conception of knowledge and, in particular, the one put forward by social constructivism and Ausubel's meaningful learning theory.
This paper investigates evaluation practices grounded on the performance of authentic tasks – or reality tests – starting from a renewed consideration on the value of learning. The aim is that of promoting evaluation processes that do not discriminate people, thus supporting paths of skills development and the improvement of practices. Briefly, it deals with value paradigms, authentic tasks and problems pertaining to actual situations, and it therefore points at the necessity for research to start a generative debate for
the exchange between co-valuational criteria and certificatory standards.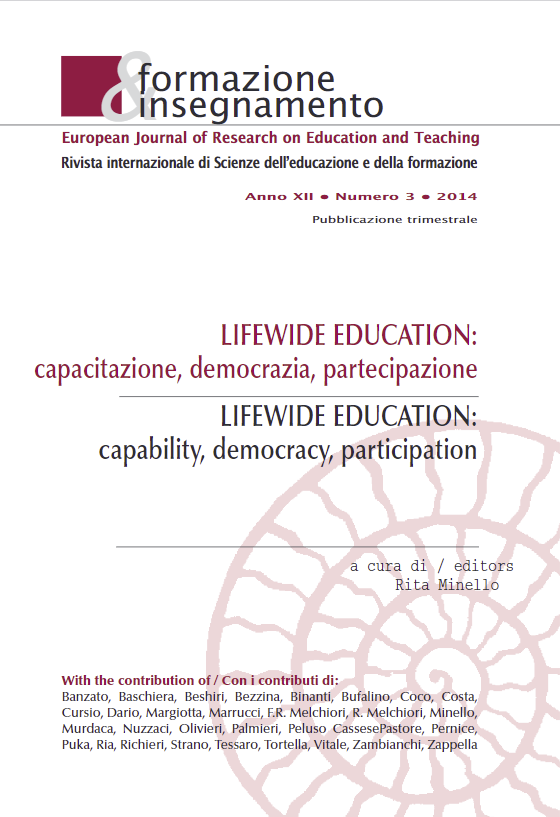 Downloads
How to Cite
Tessaro, F. (2014). Authentic tasks or reality tests?. Formazione & Insegnamento, 12(3), 77–88. Retrieved from https://ojs.pensamultimedia.it/index.php/siref/article/view/1119
License
Copyright (c) 2014 Fiorino Tessaro
This work is licensed under a Creative Commons Attribution 4.0 International License.
Formazione & insegnamento is distributed under Attribution 4.0 International (CC BY 4.0).
For further details, please refer to our Repository & Archiving Policy, as well as our Copyright & Licensing Terms.