School environmental factors that hinder the acquisition of the study method for students with learning difficulties. An exploratory research
Abstract
This paper discusses some issues related to the promotion of the study
method for all students. It pays specific attention to pupils with learning difficulties
(LD), and it contemplates the need of school for responding to individual
differences in their interaction with environmental factors. These
factors may be barriers to learning or positive pre-judgments for successful
training. For students with LD, the progressive promotion of the study
method can't be limited to making available some compensatory or educational
tools, but the school must promote an effective and aware use of
these tools. The perspective is to promote a school organization in which
everyone is actively involved in the creation of own study method.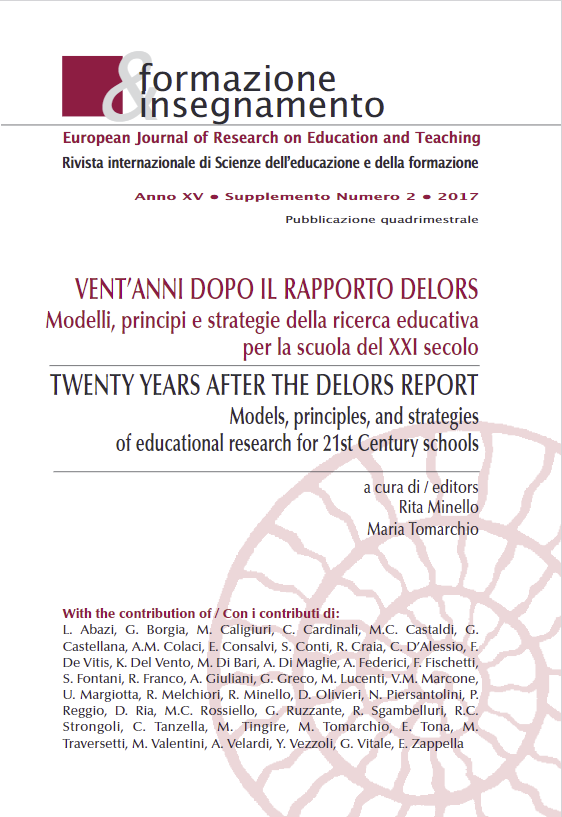 Downloads
How to Cite
Traversetti, M. (2017). School environmental factors that hinder the acquisition of the study method for students with learning difficulties. An exploratory research. Formazione & Insegnamento, 15(2 Suppl.), 427–434. Retrieved from https://ojs.pensamultimedia.it/index.php/siref/article/view/2616
License
Copyright (c) 2017 Marianna Traversetti
This work is licensed under a Creative Commons Attribution 4.0 International License.
Formazione & insegnamento is distributed under Attribution 4.0 International (CC BY 4.0).
For further details, please refer to our Repository & Archiving Policy, as well as our Copyright & Licensing Terms.